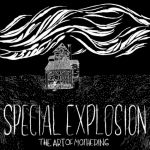 I feel like it's a crime against music to say that I've never managed to get into Death Cab For Cutie. Whilst I absolutely adore 'Brothers On A Hotel Bed' and 'I Will Follow You Into The Dark' (then again, who doesn't?), I haven't managed to get as far as being able to name any other songs. I've heard the album that those songs are from (and I can't even name the album off the top of my head; case in point) a few times and I know from those few listens that the album, and the band, are something special. Now, when a band are recommended for you if you like Death Cab For Cutie, then you're going to be expecting big things. Case in point here then with Special Explosion.
I imagined to be hearing very gentle, very sort of mellow and not exactly 'provoking' songs from this rather long EP, 'The Art Of Mothering', and immediately I think I did. Opener 'Avery' is certainly more of an intro to the following 6 tracks, but 'Clotheslined' brings more of an impact and the absolutely lovely dual vocal work of siblings Andy and Lizzy Costello. Whilst my first listen was just background music whilst I was cooking, it was two thirds of the way through this track where the overdrive kicked in and I started to take notice. There's a passion in the softer things in life, but there's certainly just as much passion when things get a little bit more 'furious'.
'Hide' dabbles in the aforementioned 'furious' side of things (NB: 'furious' is used incredibly lightly, but in the context of the songs it does make a lot of sense) and has big sounding vocals from Andy, but I'm missing Lizzy. More backing vocals, or even Lizzy taking centre stage would be an absolute delight and would be mixing things up enough to gain even more interest.
Unfortunately, I don't feel that the rest of 'The Art Of Mothering' manages to match these heights. There's a few moments where I feel like we're going to shift up a gear, but then we just hit back into neutral and coast the rest of the way. Whilst I do openly admit that I'm not the most clued up in this genre, I think we all know when we find something special or unique. There are elements here that show potential, but there's nothing here as special as Death Cab For Cutie.
2.5/5
'The Art Of Mothering' by Special Explosion is out now on Topshelf Records.
Special Explosion links: Website|Facebook|Twitter
Words by Mikey Brown (@MikeyMiracle)