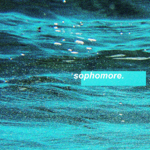 Alex Sears has been known herewith as the frontman of rising pop-punk band Decade; think a tamer Four Year Strong, with song titles like 'The Doctor Called (Turns Out I'm Sick As Fuck)'. However, here he explores a different side of his sphere of influence under the moniker of the stylistically irritating sophomore, under which he has already released a few snapshots of material, including covers of Lana Del Rey and Paul McCartney. This four-tracker, unfortunately sounding nothing like its Weezer classic namesake, is written and produced solely by Sears, and represents a departure to the stratosphere-scraping emotive post-hardcore of Basement, Balance and Composure and latter-day Thrice.
'Young Adult' begins proceedings with a solitary, almost post-rock-esque guitar line before bursting into life, and Sears' powerful vocal shines through instantly. A steady, grungey riff powers the track throughout, and delivers a powerful statement that this is quite unlike anything we've heard from him before. 'Caged' carries on in a fine vein, wonderful vocal harmonies shaping this energetic number with instrumental hooks big enough to land a blue whale. 'House Spider' finds things moving into more introspective territory; hearkening back to the Thrice comparison made earlier, this is the kind of song that could've closed out 'Beggars' or 'Major/Minor', such are its haunting atmospherics and emotive vocal line. 'XYZ', the final track, is a more mid-paced rocker; probably the weakest track of this offering, but still enough to inspire a head-nod, especially during the chorus.
When you come across the phrase "pop-punk singer does grunge-tinged basement punk", you fear the absolute worst but this is fantastic work from the Somerset lad. sophomore has done well on his (tee hee) sophomore release, and has expressed his desire to take this to the live arena; on the basis of this release he should only be encouraged to do so. This gets released for free on Bandcamp on the day after Valentine's Day – flowers wilt and chocolates make you fat, but an EP this good is the perfect gift for your loved one.
4/5
'The Blue EP' by sophomore is out on February 15th.
sophomore links: Facebook|Twitter|Bandcamp
Words by Ollie Connors (@olliexcore)