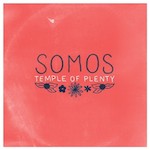 Since forming in 2008, Carolina-based indie record label Tiny Engines has gradually built a reputation for releasing music from some of the best up and coming underground US bands; Tigers Jaw, The Hotelier, Direct Effect, Save Ends and State Lines. Now you can add Boston, MA's Somos to that growing list as their debut LP, 'Temple of Plenty', is a consistent and comfortable collection that is simply satisfying.
The band's mixture of summery indie rock and post-2000 emotionally-driven pop-punk enables Somos to carry themselves over 28 minutes. 'Familiar Theme' sets the standard early on with playful guitar melodies complimenting Michael Fiorentino's smooth vocals.
Whereas tracks like 'Domestic' and 'Dead Wrong' are punchy and dynamic with an effortless transition between verse and chorus. Something which could be considered to stay intact throughout 'Temple of Plenty'.
Although Somos' output is superb throughout, their formula lacks variation, and whilst songs like the catchy 'Lives Of Others' and the equally upbeat 'When You Pass' keep your attention, there is a certain lack of variation.
Ultimately 'Temple Of Plenty' finds itself in a weird place. One where every song is great but suffers from having a standout track. Later tracks 'Strangest Example', 'Lifeline' and 'Before You Merge' continue to highlight Somos' knack for producing summery, tight songs that are pleasing enough, yet simultaneously calmly carry the album's momentum.
Without a doubt Somos will win over a lot of fans with this effort as they clearly have the ability to do something great, and for a debut record, they've set themselves a comfortable standard to follow up with. And due to the band's impressive melodies, confident instrumental delivery and overall bright yet sincere approach, 'Temple Of Plenty' has plenty of longevity. Nevertheless, it is a more than a worthy addition to the admirable Tiny Engines roster.
4/5
'Temple Of Plenty' by Somos is out now on Tiny Engines.
Somos links: Facebook|Tumblr|Twitter
Words by Sean Reid (@SeanReid86)