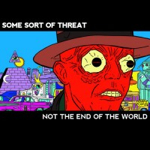 Remember when punk was concise? A couple of chords and a conviction that nothing couldn't be said in the space of 2 minutes were required tools for the youthful punk's dissident form of expression. It was also usually rather aggressive and distorted, but the genre's evolution eventually allowed for a folk branch to emerge, broadening the genre sonic spectrum and opening up space for fresh and exciting talent (think Against Me! early on, but also, to some extent, the later solo evolutions – closer to folk's original roots – in the likes of Frank Turner and Ben Marwood). Young Exeter kid Some Kind Of Threat (aka Rory Matthews) sits somewhere between those two propositions, combining the frantic acoustic strumming of early Against Me! and the verbose cleverness of Marwood.
From start to finish, 'Not The End Of The World' is built on a core base of frenetic chord work that strives to be more interesting than the usually simplistic rhythmics of the genre. Add Matthews' knack for playing with words (in fact he might sometimes be guilty of trying too hard to be impressive lyrically, to the extent that the emotional impetus of the tracks are sometimes consequently diminished) and a hint of violin here and there as a melodic weight and you've got yourself a rather impressive piece of work for someones so young.
With a bittersweet indictment on growing-up ('Henman's Year'), a bittersweet indictment on heading home ('The Only Living Boy In Newtown'), a bittersweet indictment on a fading love ('The Surface') and a bittersweet song about nothing in particular ('Soaking Wet'), there's ample evidence of a comfort zone on 'Not The End Of The World'. That being said, Matthews is consistently catchy and there's more than enough time for the lad to bring variety to his work as he matures. In fact there are hints of what he could achieve in closing track 'Birdsong'. Showcasing his best rhythmic skills with some fairly interesting technical shifts, it also displays the best tonal balance between the rather scathing verses and the heartening soul of the chorus.
He's fast, he's young, he's not particularly loud, but he's someone to keep an eye on and 'Not The End Of The World' is a great place to start taking Some Sort Of Threat seriously.
3.5/5
'Not The End Of The World' by Some Sort Of Threat is out now on Specialist Subject Records.
Some Sort Of Threat links: Facebook|Bandcamp
Words by James 'Bearclaw' Lewis (@swissbearclaw)