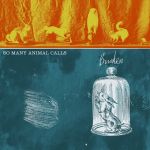 The first thing that really grabs you when you put on 'Burden' is that this is exactly what Death Cab For Cutie would sound like if they were from Scotland, but with a more upbeat tone. So Many Animal Calls have mastered the art of a catchy song with great rhythm.
'Burden' is the Glaswegian foursome's follow-up to debut EP 'Eulogy', and the steps in progression are very clear. So Many Animal Calls have practiced their craft and polished it to produce a seemingly fantastic four track EP. I think the highest compliment I could give to these boys is if Circa Survive decided to put a bit more of an upbeat tempo to their work then you would have So Many Animal Calls.
The opening track, 'From the Sick Bed', instantly has you hooked with great drum fills, catchy melodic guitar riffs and perfectly executed vocals. Not only is it the perfect track to open 'Burden', it also sets the tone for the rest of the EP as the following three tracks all follow suit. The track 'My Blood's Not Mine' is by far the catchiest tune on the EP; its use of up-beat tempo and group vocals will certainly be a song that gets stuck in everyone's head.
It is really hard to pick fault with So Many Animal Calls as all four tracks on 'Burden' just flow so smoothly together. Whether it's the upbeat fun of 'From the Sick Bed' or the mellower 'Chromatography is for Cool Kids' everything is note and pitch perfect.
The band lists their influences as The Get Up Kids, The Cure and Motion City Soundtrack, but even though these influences are apparent in their music they are in no way just ripping off these bands. It is so exciting when you hear a truly fresh band making good music, and this is exactly what So Many Animal Calls have achieved.
5/5
'Burden' by So Many Animal Calls is out now on Bloc+Music.
So Many Animal Calls links: Facebook|Twitter|Bandcamp
Words by Tim Birkbeck (@Tim_Birkbeck)