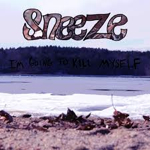 Hailing all the way from Boston, Massachusetts, Sneeze is a trio rooted in indie, punk and grunge. The band are finally releasing last year's debut full length, 'I'm Going To Kill Myself', on vinyl; not only that it will be getting its official release in the UK and Europe on Close to Home Records.
In regards to the overall sound of the band and this record, Sneeze combines the best elements in the punk, indie and grunge genres. The songs are short and punchy, the longest being under the four minute mark. The recording is of a lo-fi nature, carrying fuzzy guitars and catchy pop filled hooks. To sum it up, one could describe Sneeze as the legitimate child of Weezer and Mudhoney. This equates to a 15 track led record for fun and enjoyment, dancing around aimlessly and singing along in a melodic snotty style.
<a href="http://sneezeus.bandcamp.com/album/im-going-to-kill-myself-lp" data-mce-href="http://sneezeus.bandcamp.com/album/im-going-to-kill-myself-lp">I'm Going to Kill Myself LP by sneeze</a>
Upon closer inspection to the songs themselves, there are elements to be entertained by. 'Bad Head' and 'Vaticant' swiftly provide the grungiest moments that can make a mess of one's ears. The poppy tones creep out of the fuzziness on the likes of the title track and 'Park Her Road' showcasing the enjoyable nature of the band. The stand out track belongs to final song 'Outro' has an aura of soft melancholic whimsy, which is driven to an all-out fuzz-pop jam.
For this reviewer it took a while to get his head around the nature of this band. After many listens, the following points have been summed up about this record. Sneeze is an enjoyable and entertaining band who combines the best elements of their influences. The songs themselves are straight to the point and easy to get into, but provide a variation of moods suited to the formula. Angst, melancholy, and fun are rolled up into grunge pop greatness.
3.5/5
'I'm Going to Kill Myself' by Sneeze is available now on Close To Home Records.
Sneeze links: Facebook|Bandcamp|Twitter|Website
Words by Aaron Lohan (@ooran_loohan)