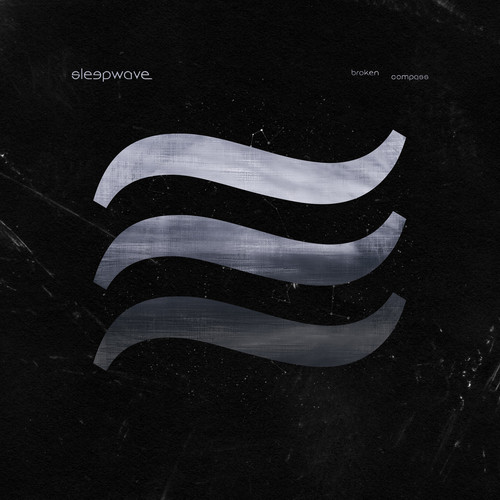 Recently, we've seen numerous metalcore vocalists take new directions in the music that they create.  In this year alone, we've seen artists such as Josh Scogin, who ended The Chariot to soon form '68, who then release their debut album 'In Humor and Sadness'. Alongside this, we have Caleb Shomo, who after Attack Attack!, went on to form Beartooth, who recently released 'Disgusting'. Adding to this inevitably expanding list is Spencer Chamberlain, former vocalist of the now recently defunct band Underoath. Blending a hybrid fusion of rock and electronica, Spencer and co.'s new band Sleepwave is reminiscent of bands like Nine Inch Nails, albeit with a similar brooding rock n roll vibe, which encompasses the majority of the album with negative, angry lyricism.
Which I suppose is where I should start. Following the collapse of Underoath, Spencer Chamberlain explores the emotional fallout of the ending of the band, as well as his own personal conflicts. Right off the bat, with lyrics such as, "If everything was raped and taken from my hands, I'd be just fine" being present on the very first track, it's clear the album is about to twist and turn on the omnipresent emotional rollercoaster that is 'Broken Compass'. Songs like 'Rock and Roll Is Dead And So Am I' and 'Repeat Routine' have Spencer mournfully contemplating his life, which offering allusions to thoughts of his old band, as well as the desperation to leave his old metalcore persona behind.
These themes tend to dominate the majority of the album. Of course, other topics are covered as well, as 'Broken Compass' offers insight into the persisting thoughts of Spencer's inner psyche. Feelings such as suicide, represented on 'Replace Me', and the possible feelings for another on 'Whole Again', portray how emotionally difficult the challenges Spencer has had to recently face were, not to mention the possible religious undertones that also weave through the album. Regardless, the power of the lyrics themselves are undeniably formidable. A true testament to this, is the album's finale, in which Spencer furiously resigns to the fact that only he can save himself, emphasized by the repetition.
It's such a shame however, that the music doesn't match with the intensity of Spencer himself. Blending two styles of music effectively is always risky business, and to their credit, Sleepwave shows nothing but passion throughout the record, yet the album is littered with just plain, watered down instrumentation. Vocal effects plague the album, heavily distorting the already sickly sweet voice of Spencer Chamberlain, adding the icing of an already much layered cake. Subsequently, the rockier, more raucous tracks such as 'Rock and Roll Is Dead…' and 'The Wolf' seemed to have been drowned in gimmicks and flashy effects, turning what could have been visceral guitar riffs, that truly displayed the turmoil of the album, into shallow husks of themselves.
Ironically, slower songs such as 'Hold Up My Head' seem to cause more of an impact. As Spencer lets off one-liners such as, "Every last one of them could choke for all I care", the album finally shows a devastating combination of music and lyrics, without having to hear a constant barrage of cheap effects during the build-up of the song to lessen it. But, perhaps I'm being too harsh. The album isn't necessarily bad, I just feel listening to it, it offers no real interesting moments outside of its lyrical content. And while the electronic murkiness tries to change this by giving the record some sort of dissonant ambience, it only succeeds in making most of the songs sound the same. To put it simply, 'Broken Compass' is bland.
Overall, it's obvious listening to it that Spencer Chamberlain poured his heart and soul into the record, conveying his true thoughts and feelings from the past couple years. Nevertheless, Sleepwave fails to deliver a very emotionally driven album, because of its lack of depth musically. It's a shame really, because it ultimately feels that this album had true potential.
2/5
'Broken Compass' by Sleepwave is out now on Epitaph Records.
Sleepwave links: Facebook|Twitter
Words by Harry Miller (@HarrryMiller)