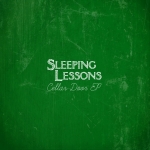 After changing their name from Tides to Sleeping Lessons, the Cheltenham quartet have "matured" their sound as their début EP, 'Cellar Door' proves to a short, impressionable release that holds a lot of promise.
Although comparisons to bands like Brand New and La Dispute are quite clear early on (see 'Eleven Eleven,') Sleeping Lessons still show their ability to be an equally compelling band, with subtle brooding guitars giving way to Tom Savory's aggressive vocals which come off as erratic yet gives the opener plenty of energy.
<a href="http://scyllarecords.bandcamp.com/album/cellar-door-ep" data-mce-href="http://scyllarecords.bandcamp.com/album/cellar-door-ep">Cellar Door EP by Sleeping Lessons</a>
'Black Sheep/White Teeth' plain and simply keeps up the momentum although light, twangling guitars hint at the bands softer side. Nevertheless the bands thriving guitars and pounding drums dominate throughout. 
Closing track 'Winter Mourning' turns out to be the one of the three tracks to show the most promise; striking guitars, dynamic drum work and passionate vocals from Savory. 
Although Sleeping Lessons is still a work in progress and 'Cellar Door' is their first release, the band's ideas still come off well as they lay down strong foundations for whatever is to come next. The bands aggravated indie rock sound is raw, edgy and energetic making them sound genuine.
Certainly one to keep track of in 2013.
3.5/5
'Cellar Door' EP by Sleeping Lessons is out now through Scylla Records.
Sleeping Lessons links: Facebook|Twitter
Words by Sean Reid (@SeanReid86)