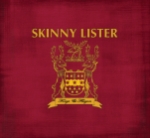 Skinny Lister hail from all over the United Kingdom, a band truly of our fair land, creating folk music that launches the listener into the fabric and history of Great Britain. 'Forge and Flagon' is their debut album, a throwback album of folk tunes heart warming and earthy. They have the spirit of The Pogues, the energy of tour-mates Flogging Molly and even a touch of great English songwriters like Billy Bragg about them, an exciting proposition to be sure.
The album starts jauntily enough with 'If The Gaff Don't Let Us Down,' which has the feel of a drunken sea shanty, an ode to travelling, and a song to drunkenly dance to as you wave your flagon of ale high. 'Rollin' Over' conjures up the majestic English countryside in a way that makes it seem a lot more than just a lot of rainy fields. It is a romantic, rose-tinted view of an England lost; the songs are crafted with love and pride.
'Peregrine Fly' is a stand out track on the album; it is a delicate and beautiful loving lament reminiscent of 'Levi Stubbs Tears'. 'Seventeen Summers' also channels the spirit of the great Bard of Barking, Billy Bragg. It is Skinny Lister at their strongest and this duo of songs are definitely the highlights of the album.
'Wild As The Wind Blows' veers far too close to the Captain Pugwash theme tune for my liking and this verging on the twee is a small gripe I have with this album. This is an album of vivid imagination and is utterly absorbing in transporting you back to a rural England of times lost, however it oversteps the mark slightly and ends up sounding a bit twee on occasions.
This is such a quintessentially English album, bringing to mind Frank Turner in its' earnest yearning for an England past. It is an enjoyable enough collection of folky-punk tracks and will be one of the most upbeat albums you will hear this year certainly. If there is one problem I have with the album is that it is a relic; it is a little too rustic for my tastes and could do with a bit more of a kick to it. However, it definitely deserves to be given a chance. There are some exquisite moments of song writing on the album, and it will definitely leave you feeling all fuzzy inside.
3.5/5
'Forge & Flagon' by Skinny Lister is available now on SideOneDummyRecords.
Skinny Lister links: Official Website|Facebook|Twitter
Words by Tom White