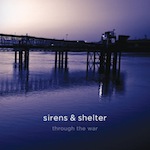 If you're a fan of the melodic acoustic hits from artists such as City and Colour and The Spill Canvas then Sirens & Shelter could be for you. This one man acoustic band stars the talented Scott Mallard, who writes and produces all his own original tracks. 'Through The War' is a playful album with ambient riffs and captivating melodies, and it's not your usual emotional heart-wrenching acoustic record, making it just a bit different.
The record opens with 'Black and Classic White' a soft slow-paced hit, with a captivating harmonious melody and sweet vocals. This follows with a different style hit '90's Song', which is more upbeat and features powerful playful riffs, a sweeping melody and conveys a range of conflicting emotions.
'Through The War' also features a special one off collaboration track with AJ Perdomo from The Dangerous Summer, which should instantly raise Sirens & Shelter's profile with AJ's fans giving it a listen.
The recommended listen is 'Four2thefloor'  which has superb mesmerising riffs in time with wonderful sounds from the harmonica, adding that authentic country-like feel. The rhythm created by the talented instrumental playing is truly breathtaking. This carries on with another wonderful track'Breathe' which again features outstanding guitar riffs.
As the record progresses, the tracks definitely improve with more terrific hits such as 'See You Soon' and 'Text.Pictures' featuring poetic riffs and a light-hearted tune. However the title song 'Through The War' 'is a big disappointment as a closing song, as it's completely different to the rest of the tracks; this makes it seem disjointed and out of place.
'Through The War' is a fantastic acoustic album that showcases Scott's talent, and shows a promise for a bright future. The only criticism is with the lyrics, they seem to be lacking sincerity and innovation. As a listener you can't relate to them, which is something highly important for a hit to really grasp people and get them singing their souls out to the words. Other than those failing lyrics, the record features unique vocals, prevailing melodious riffs and splendid melodies – if you're a fan of acoustic tunes, this album is definitely worth a good listen.
3/5
'Through The War' by Sirens & Shelter is released 10th October on Engineer Records
Sirens & Shelter links: Website|Facebook|Twitter
Words by Chantelle Kelly (@ChantelleKelly3)