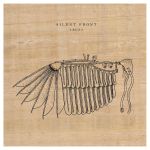 London noise merchants Silent Front's latest effort, 'Trust', is a gorgeously abrasive offering. From the offing the three-piece provide track after angry track of discordant, clattering chaos. Opening track 'Mechanical Grip' borders on the distressing, with vocals pouring forth from behind angular guitar. It's a solid track and a good place to start but it feels as though the album really kicks into gear with the bass riff that opens the following track. Complemented by dirty guitar and absolutely slamming drums, 'Bracken' is a monster long before the vocals cut through. Evolving again and again before culminating in an enormous, desperate cacophony. This really is a track designed to leave a mark.
'Friend or Foe' is thrashy, interspersed with some utterly vile softer sections (if there wasn't a good kind of vile before, there is now) that work well in order to allow the band to tear you a new one just as soon as you've grown comfortable with the disconcerting noises they make in between. The soundscapes created throughout 'Trust' are so important and none more so than in the risky addition of a six minute, low tempo instrumental. Sandwiched between two aggressive onslaughts, 'Confiance' is a well-taken gamble, an uncomfortable non-silence that breaks up the otherwise constant barrage of sound.
That barrage soon returns with a vengeance as 'Nails' shreds through to 'Invisible Mouth' and the return of the utterly filthy bass that made 'Bracken' so brilliant early on. I'm not going to say that at this point Silent Front are as good as Refused but there are moments on this record, in particular those gritty bass laden parts, that summon a fair image of those noisy masters.
'Trust' never lets up even when it slows down. Every second of this record is fully charged with either a sporadic fury or a distinct unease. Not for the faint hearted.
4/5
'Trust' by Silent Front is released on 3rd February on Function Records.
Silent Front links: Website|Facebook|Twitter
Words by Thomas Knott (@nounandthenouns)