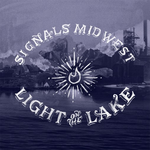 I have a confession to make. I'm a terrible reviewer. The reason being that I'm afflicted with a most handicapping of prejudices: a deep partiality to deeper vocals when it comes to pop-punk. As a result, any one of the thousand copies of Mayday Parade and their grating, nasal, high-pitches whine inevitably starts off with less of a chance of winning my heart than the suave grave tones of The Attika State or, my subject of the day, Signals Midwest (to name but two). The real inequality, however, lies in realm considerably deeper than that of mere differences in vocal tones because Signals Midwest feel a million miles above their peers on third album 'Light On The Lake'.
It's a bold statement, I am aware of it. Yet the way singer and guitarist Max Stern finds no need to overplay the emotions (a fault I find in many a lauded pop-punk outfit these days) allows the band's catchy riffs, twinkly licks and emotive chord progressions to shine and compliment one another without feeling like the backing band for an overcompensating failed actor. There's genuine understated sentiment to be found lurking around the corners of a turn of phrase and a quiver of Stern's voice. Around that core, Signals Midwest firstly have a healthy tendency to play with rhythms in the space of one gone (one of this reviewer's preferred ingredients for keeping people from being bored), most notably on 'In The Pauses'. Secondly, they know when to go soft, when to go strong, when to go fast. In a word they know how to write good songs, and more importantly they don't restrain themselves with the perceived requirements of genre (there's a guitar solo in here!).
Take that above-cited 'In The Pauses', Stern's overview of a painful on-off relationship. It twists and turns, rises and falls in crashes and whispers, and even has that most unlikely mid-point climax with said guitar solo. There's an element of burlesque here, everything working in unison to pull the listener in the serpentine emotional roller-coaster that Stern suggests. The band however also succeed with simpler recipes. 'A Room Once Called Yours' storms forward in punk rock fashion with everything on here ripped straight from the pages of midwest pop-punk 101 until the very ending. As the track enters its final quarter, the guitars clean themselves up and get jiggy with some up-beat fast strumming and Stern's somewhat nonchalant blasé-ism, building towards a cracking finale (just listen to that background guitar lick!).
The truth is that the whole album is peppered with those little individual moments of shine. 'The Desert to Denver' opening verse and lick is a melancholic treat, the choral close of 'An Echo, A Strain', the roomy acoustics of 'Greater Plains' and the rodeo ride of 'A Glowing Light, An Impending Dawn'. While they do make use of the usual palette of emo-tending punk rock, there isn't one song on here that doesn't have something special going for it, something to make that track title stand out rather than merge in that indistinct mass of titles on iTunes. That's just about the best you can do with pop-punk.
3.5/5
'Light On The Lake' by Signals Midwest is out on the 22nd of October on Tiny Engines.
Signals Midwest links: Facebook|Twitter|Tumblr|Bandcamp 
Words by James Berclaz-Lewis (@swissbearclaw)