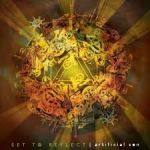 Ohio's metalcore outfit Set to Reflect have set out to impress with their first album, 'Artificial Sun'. There are pop culture references abound and a quick-fire, keep them pinned to the wall attitude. with a near constant barrage of chugging rhythms and intense vocals ranging from far away shouting, and sweet harmonies to guttural growls driving the whole thing forward without any real pacing; there's a detrimental cost to the actual perceived quality of the songs and experience of them. When things finally settle down in the last two tracks, its almost over and the pace seems a little ruined.
The opener 'Pacing in the Panic Room' (ok, I'll admit, I love that title) starts promisingly enough, slow burn into cymbal and guttural throaty heaviness works well. It feels like it loses a little pace in the slower moments. The thudding of the guitars in sync is great though, and pulls it back. It should be a strong track, but I think it loses its way a little in the middle sections. There's also stand out track 'I Am The One Who Knocks', re-recorded from last year's 'A New Path to Walk'. Here it is presented without electronic drums and angular programmed noise in the intro, and while I felt that was fantastic for the song originally, it probably was a wise decision now it's not the opening track. The straight drop into the first vocal does the trick nicely, it's like a suckerpunch to the solar plexus and the re-recorded guitars squeal with renewed vigour, with a bit of a Norma Jean nod to style. Title track 'Artificial Sun' actually offers one of the most interesting moments, with its comparatively laid back clean guitars, borderline emotional meltdown singing and the almost Joanna Newsom-esque female vocal interjections; "Am I lost or just forgotten?" she asks. It's haunting and i actually want more of that.
There's a couple of places where the lack of experience with recording shows. For example, in the straining of some of the vocals in 'Preying for Forgiveness', I'm finding it painful to listen to; I can imagine there being some ruined vocal chords in the name of 'art'. I definitely feel like their harmonies (which remind me a little of later Dance Gavin Dance) are better than the screamed vocals, especially in 'Catharsis'. In some parts of 'Long Lost: Divide' it feels like the guitars, vocals and drums are all running at slightly different speeds, just missing each other, and not intentionally. It's disconcerting.
For the most part though, this is basically mosh music with some snappy angular guitar and some intense vocals: it's well produced, but it's nothing special. You can rock out and once you're done, forget a lot of it. There are plenty of single moments of great guitar/double kick drum and growls that would wake demons and if you like those things you will probably enjoy this a lot. But even after a few listens I honestly can't tell half the songs apart, or where those exciting bits were. I'd like to see more of the latter tracks, because I think I genuinely found when they took a step back from a constant barrage of screaming, it was a breath of fresh air. And that's what this album really needs, a bit of space to breathe.
3/5
'Artificial Sun' by Set to Reflect is out now on Standby Records.
Set To Reflect links: Facebook|Twitter|YouTube
Words by Heather Robertson (@thecuriosity)