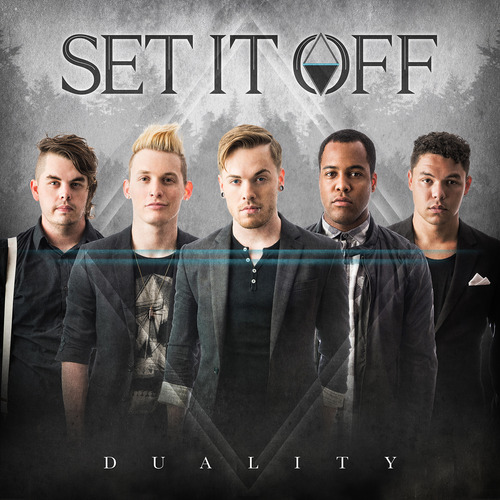 Sometimes the best way forward is to restart, reinvent and reidentify. Set It Off's second album 'Duality' grabs the rule book and tears it up to shreds. From their roots in atmospheric symphonic rock, Set It Off have transitioned towards snappy pop-punk which suits every member's versatile talents down to the ground.
The highly anticipated follow-up to 2012's genre-bending 'Cinematics', the Florida set's new release takes the form of a rock opera, inspired by soulful '90s R&B beats combined with their symphonic rock background. But don't mistake this newfound meaning with Set It Off softening their message – "burn in hell", "bid your ass adieu" and a plethora of the band's customary threats break the surface of 'Duality' – testament to the album title, there's two sides to every story. In place of 'Cinematics'' graphic depictions of revenge, 'Dualit'y presents numerous escape routes out of danger before "karma's gonna come collect your debt". The band's teaser trailer suggests an impending concept video series centred on the band facing a blank masked enemy, fighting the idea of 'perfection' – this is worth every atom of hype.
Their newfound R&B influences emerge vigorously through the anthemic 'Why Worry', an infectious beat to get you on your feet to the tune of possibly the greatest pop-punk lyric – "sick of hearing this hakuna matata motto from people who won the lotto, we're not that lucky". Carson's vocals take to the soulful intonations of pop-punk like symphonic ducks to water, his astounding range oozes versatility throughout 'Wolf In Sheep's Clothing', driven expertly by drummer Maxx Danziger's faultless rhythm, it's hard to believe he once drummed for One Direction.
Set It Off have by no means abandoned their seductively symphonic background, opening the record with 'The Haunting's surreal atmosphere carrying their traditional vengeful message – "I will haunt your fucking dreams". Straight from this atmospheric reflection of their past comes 'N.M.E', a seething commentary on the state of affairs of life absorbed by social media and jealousy, laced with the catchiest pop –punk nuances. 'Bleak December' puts a frostier, infectious spin on their traditional revenge narrative, holding nothing back on "how full of shit you are" – whoever thought vengeance would be so addictive? The album's title track 'Duality' personifies Set It Off's career to date – a two-sided coin of revenge and madness. The old symphonic ethos re-emerges midway through the record to remind you where they've come from and where they've arrived – their best career move so far.
'Forever Stuck In Our Youth' unpredictably bursts out with a limitless punk appeal transcending youth itself, skilfully blending Dan Clermont and Zach DeWall's signature guitar trickery together with punchy pop beats, demonstrated further with the jaw-dropping solo of 'Ancient History'. The unstoppably optimistic 'Tomorrow' features the excruciatingly talented Jason Lancaster (ex-Mayday Parade), otherwise known as the cherry on top of the beautiful Duality cake, as if this album didn't already have enough astounding shout-along hooks. The most addicting track, however, comes from the summery ode 'Bad Guy', depicting a one-sided relationship in the most unexpectedly optimistic way possible – if you're not grooving along with every available limb, you probably don't have eardrums.
'Miss Mysterious' closes the record flawlessly with a lingering medley of the best lines on the album – remember Fall Out Boy's 'What A Catch Donnie'? The beautiful sing-along gospel atmosphere of this ballad hinges on the saying "if you love someone, let them go", and no matter how many times you've heard it before, it'll certainly sink in this time.
For fans of Issues and Fall Out Boy, this new approach is fantastically creative, fresh, and completely flawless. It's about time the mould of pop-punk was broken and pushed into a catchier yet lyrically dark avenue, and Set It Off have done just that and made it look easy. Straight away, 'Duality' feels like a perfectly natural transition and it's now impossible to imagine them without it. The risk paid off and now Set It Off are at the height of their game, the only way is up and this album will remain the defining moment of their career.
5/5
'Duality' by Set It Off is out now on Rude Records.
Set It Off links: Official Website|Facebook|Twitter
Words by Ali Cooper (@AliZombie_)