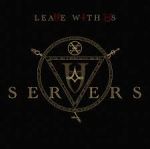 Yorkshire-based Servers have caused quite a stir in the alternative rock world when it was announced their debut album 'Leave With Us' was set for release on Undergroove Records – a greatly celebrated UK label known for bringing dirty, low, rock grooves to the ears of the masses. This album will be rubbing shoulders with greats and the label brings a lot of heritage with it – so lets get stuck in.
Opening track 'Save Me From Myself' has a 'Blood Mountain'/'Leviathan' era Mastodon feel to it musically, but lyrically front man Lee Storrar brings shades of Howard, ex of Killswitch Engage and (they might kill me for saying this) Jared Leto of 30 Seconds to Mars. It's low, melodic, dirty, and the rhythm sways and pulses forward with some punchy drums and sizzling cymbals. There are a lot of layers here for a three piece, and the arrangement is spot on. 'Universes & Supernovas (The Ride)' is a trashy, thrashy, raucous southern affair. There's a lot of urgency, fast guitars and a totally different vocal style to the opener. The chorus is huge and it fills your headphones and speakers out before it filters back down to the guitar led verses. And of course no song is complete without a noisy, middle breakdown. To cap things off, at the end you are treated to an orchestral re-work outro, which is well arranged if not a little out of place.
'Claustraphobia' is, for lack of a better descriptive term, a stoner-rock ballad. The vocals are slower and the notes drawn out complete with harmony, accompanied by a musical section that is chord led and fairly straight arrangement-wise. An interesting turn this early in the album. 'Run With The Foxes' has a slight power rock feel to it, with a solid rhythm guitar leading the track alongside a few lead guitar riffs. This is turning out to be a well accomplished and varied album, these boys clearly don't want to be pinned down. The vocals are more modern, harking to You Me At Six and mid-late Funeral for a Friend. And they fill every gap with sound – it's a sonic landscape on this release.
'Dangerous Devotion' made me do a double-take to make sure shuffle hadn't tipped me onto a Rudess era Dream Theatre track. Once again something new, with the lead being taken by a synthy, prog-like tone, backed up with more low down and dirty guitars and bass. The track itself definitely has a prog feel going on – musically, lyrically and guitar solo-y. And of course, a bit of a string section added in doesn't hurt. 'Mega High' is making me take back my previous statement of a stoner track. THIS is the southern stoner track. Fuzzy guitars, Tool worth riffs and wide-open drums fill this track out and leave it sparse at the same time. It's simple, chunky and affective.
Up next is 'Do Gooders' and it's taken me this long to compare the band to Kyuss/early Queens of the Stone Age. Creepy vocal parts, modulated guitar riffs and thumping bass and drums. All that's missing is Nick Oliveri screaming his unmentionables off in the background. Staying on the Josh Homme tip, 'Once I Started I Was Never Stopping' brings the format a little more up to date with some modern chorus work thrown in for kicks. There are even some bits of Grohl produced Rye Coalition in here, offering up balls out rhythm guitar and lead parts scream through the track when it suits. Gonna go out on a limb here and say it's my favourite of the album.
'King Things' is another textured and thick track with plenty of layers, melody and depth to match. It's not overdone, it's not making up for anything else either. They love a good, dirty, raw guitar sound do Servers, and they now how to do it consistently. This is a great example of how dynamics and counter melody still have a place in modern alt/heavy music, much in the same vein as Mastodon. Arguably the last track 'Mothers Grave / Leave With Us' is the rawest track on the album and has rightly been left for last. Encompassing the best bits from all the tracks previous, the listener is provided with a huge guitar sound, fierce and articulate drums, urgent strong vocals and an unrelenting pace that hooks your ears in and keeps you in to the end.
You will not be disappointed with this album if you like raw, fat, chunky guitar riffs and lyrics that tread a dark line between fantasy and reality. There's something for everyone on this release, from stoner rock to prog, even throwing in a bit of southern grit in places to shake things up. There's a lot of life in this band, and for a debut release, it's got heaps of potential. Keep an eye on these boys, you'll want to be able to say you heard them first.
4/5
'Leave With Us' by Servers is released on 3rd March on Undergroove Records.
Servers links: Website|Facebook|Twitter
Words by Luke Crook (@paisleysoul)