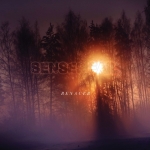 Senses Fail returns with brand new record 'Renacer' which translates from Spanish as "to be reborn". This album title is very apt, with the band taking a leap in a heavier direction compared to past releases; the band has made a fresh, bold statement that could pleasantly surprise fans.
Title track 'Renacer' opens the record and certainly gives us a taste of the "rebirth" of Senses Fail, which can also be said for the likes of 'Holy Mountain' and 'Closure/Rebirth' amongst many others. Distinctive screams forefront steady but powerful percussion; chugged riffs contribute to a weighty sound produced by the band. All of these tracks feature softer, sung vocals particularly in the choruses, which are backed by the band's classic melodies and show their calmer side.
'Mi Amor' is a captivating track and boasts mainly Spanish vocals; continuing the theme from the Spanish album title. The track has a faster pace and truly notes the heavier transition the band has made. Experimenting with vocal structures works in favour and the addition of group chants adds to the substance of the track. This can also be said for 'Canine', where verses boast brutal screams and hard-hitting group vocals; 'Snake Bite' also cleverly plays sung and screamed vocals off each other.
Slower offerings of 'Renacer' come in the form of 'Glass' and 'Frost Flower', where Senses Fail take advantage of the strong sung vocals that have featured less often in other tracks on the record. 'Glass' features some screamed vocals but the lyrics are elongated to fit with the calmer rhythms; 'Frost Flower' hosts a similar structure and features some powerful riffs which add weight to the slower track.
Senses Fail have succeeded with this record and this heavier progression has certainly worked in their favour: keeping classic elements such as their melodic choruses but focusing their efforts on darker riffs and foregrounding raw screams. 'Renacer' is a great record and although the structures of most tracks are similar and therefore slightly predictable, the record never gets repetitive and should please Senses Fail fans who will have been eagerly awaiting the release.
4/5
'Renacer' by Senses Fail is released on 25th March on Staple Records.
Senses Fail links: Website|Facebook|Twitter
Words by Hannah Gillicker (@HannahGillicker)