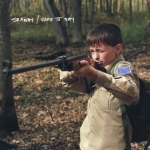 Canadian pop-punkers Seaway and Safe To Say have collaborated to release their 'Split' EP. Both bands have their own take on the genre, with Seaway compared to the likes of The Wonder Years and New Found Glory and Safe To Say sounding more like Balance and Composure and Title Fight. With this in mind, I was looking forward to hearing the EP for myself to listen to both bands interpretation of pop-punk.
Seaway opens the EP with their three tracks 'Homewrecker,' 'Middle Finger' and 'Lifted.' Starting the record with a fast-paced riff and being joined by drums to match, Seaway hit the pop-punk nail on the head. This leads to the introduction of raw gravelly vocals that perfectly suit this genre.
'Middle Finger' slows down to a mid-pace but Seaway has still managed to keep hold of my attention with their infectious riffs that I naturally bop my head to. Their combination of two vocalists gives the track more substance, especially because of the difference in the softer and raw vocals.
'Lifted' ends Seaway's contribution to the record, starting with a muffled radio-style sound and then kicking into their crisp clear recording style. Yet again the two vocalist combination works great in this track and leaves me becoming a new found fan of the band.
Next up is Safe To Say, who open up their split with a short intro 'Wished You The Worst' and instantly welcoming a heavier take on pop punk with fast-paced riffs and also an experiment with a scream midway through. Their second track 'Entirely', similar to Seaway slows to a mid-pace but the almost shouted vocals still make their sound slightly heavier. The track also opens with this similar muffled sound to Seaway's 'Lifted' but Safe To Say still manage to differentiate themselves enough for the record to not sound repetitive.
Ending 'Split' is 'Dead Birds,' another mid-paced offering that slows down in the verses and releases energy in the chorus. A standout section is the almost lone vocals that then kick into an infectious riff, a part of the track that I imagine would work well in a live performance.
With three songs from each band, their contributions are short and sweet but this has worked in their favour by intriguing me to check out what else Seaway and Safe To Say have to offer. Both have produced very easy-listening tracks to combine and make a great EP, with them being similar in their song structure but managing to differentiate themselves enough for the EP to not sound like it's one band instead of two. If you love pop punk then you'll love this 'Split' EP.
4/5
'Split' by Seaway/Safe To Say is released on November 15th through Mutant League Records.
Seaway: links Facebook|Twitter|Tumblr
Safe To Say: links Facebook|Twitter
Words by Hannah Gillicker (@HannahGillicker)