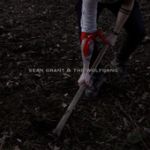 This week, the debut EP, 'We the Working Class', of Sean Grant and The WolfGang, although not to my usual taste, is a refreshing one. Sean Grant and The WolfGang is a three piece alternative folk rock band hailing from Northampton fronted by the band's namesake Sean Grant.
Sean Grant presents himself a thought provoking realist with the intention of capturing the essence of everyday lives and people. Where better to perform these stories than the streets and bars to catch the ear of these everyday people. However, this does not result in a limited audience with Sean being invited to play multiple UK and festivals and gaining an endorsement from Dr Martens. Move to 2014 and the culmination of years of experimentation and experience have produced 'We the Working Class'.
The EP opens with the track 'I Am The Devil', a sinister title if anything and matched by its lyrical content. The song is based around the theme of a post war home, detailing the brutalities of domestic abuse opening with the melancholic humming of Sean Grant and his acoustic accompaniment. The foreboding bass heavy organ continues against the "eyes as innocent as any". The track has little closure as to what becomes of the family offering only an insight making it a something to catch the attention and speculate. It is a perfect example of Sean Grant's mastery of provoking thoughts.
The subsequent track, 'Hoist The Sails', is a track resembling a sea shanty with its consistent rhythm. It compares the heart of a lover to that of a ship that the voice of the song wishes to 'captain' and subsequently earn her love. The song slowly decreases in volume and layers as it nears the end. It ends with the lines "We might not live…", before Sean's voice is cut short only to finished by the backing vocals. There is a great deal to relate to in the track 'We The Working Class' following the recent elections, this song encapsulates the working class discontent particularly in the left wing enclave of a home town, Brighton.
This EP is highly accessible and one I would recommend. Although only four tracks, each one has been intricately crafted with a lot of thought being put in. The lyrical content had my attention throughout the EP with each short story. I am sure this band will quickly progress to larger venues and gain greater publicity without losing their realism roots.
4/5
'We The Working Class' by Sean Grant and The WolfGang is out now on The Shipping Forecast.
Sean Grant and The WolfGang links: Website|Facebook|Twitter
Words by George Isaacs (@TryGeorgeIsaacs)