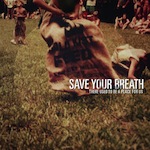 2011 was the big year for Save Your Breath before now. Debut album 'Vices' became a catalyst for mini-breakout, and as the Welsh music scene began to take some substantial knocks in Bullet for My Valentine's arguable decline and the turmoil that swallowed Lostprophets whole, the Newport quintet have been a reassuring ray of light. The five-piece have joined an ever-swelling armada of bands eager to convince the world that it's not all bad in Welsh rock right now, and far from it; with bands like Save Your Breath putting out albums like new record 'There Used To Be A Place For Us', the land of St. Andrew is still going from strength to musical strength.
As a direct follow-up to the band's 2011 debut, 'There Used To Be A Place For Us' has a fair bit to live up to. Opening track 'Lessons', however, lays down the firm fact that Save Your Breath are not lingering in the face of a challenge. Out to prove that time has bettered them and doing a damned good job of it in the early stages, the quintet is immediately in a high gear. Vocalist Kristian Richards has found something more of a bite in the two years since 'Vices', and the whole ensemble seems to have matured in sound during that time. It's a chance for the better, and following tracks 'Whole' and 'Maps' extend the beltings of a band determined to move onwards and upwards from their roots. There's snippets of the same old Save Your Breath sound that has done them so well up to now, of course, but the band's definitive sound is likely to be one that's always changing. In the same way that so many bands in and around the pop-punk scene are so difficult to pin down with one, consistent style, you get the impression that Save Your Breath will evolve as they see fit to put out the music that suits them before anyone else. Early fans of the band may find that two or three albums down the road, the music no longer appeals. Other fans may enjoy the quintet's music as long as they continue to produce it. It's far too soon to tell. What can be gathered at this stage is that the Welshmen are in a fine form.
'Find A Way' smashes in with one of the more rousing riffs that the album boasts, leading into one of the record's highlight tracks. It's a sign that the band are hardly going to ease up in the second half of the album, and after 'The World Is Yours' admittedly struggles to follow it, the band are right back on top of things with 'Airs & Graces'.
Meanwhile 'Touchpaper', is one of Save Your Breath's better lyrical works to date, leading into the album's parting shot in its closing, title track. 'There Used To Be A Place For Us' sounds off in a rather muted fashion, swapping out the punchier sound for a healthy, reverberating dose of self-help propaganda. It's not exactly going out with a whimper, but it's far from a bang. The quintet send the album out on a somewhat benign note with no final flourish as such, and you're left waiting for one last crescendo that never arrives. You could mark it down as an opportunity missed, and you'd be right to, because 'There Used To Be A Place For Us' deserves an ending as strong as what came before. It's the album's one major flaw, and it's a shame that it leaves such a mark on the album's lasting impression.
On the whole, though, there's no avoiding the fact that Save Your Breath have done a resoundingly impressive job in following up 'Vices' with a record that proves they have more than enough potential to go a serious distance. There's plenty to celebrate, and despite stumbling over the finish line a little, Save Your Breath have still set a comfortable season best in the process.
4/5
'There Used To Be A Place For Us' is out now on Animal Style Records.
Save Your Breath links: Facebook|Twitter|Tumblr
Words by Antony Lusmore (@Metacosmica)