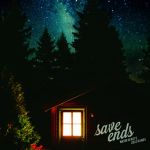 Just over a year on from the release of debut EP 'Strength vs. Will', Boston quintet Save Ends are getting ready to launch their inaugural full-length record. Their laid back pop-punk sound has won over plenty of new fans in the interim, including plenty of us at Already Heard. It's not for nothing that they found their way into a "Recommends" feature at the end of last month, and our must-hear November releases rundown the very next day, for this very album. Now, with the record finally out it's time to throw the curtains wide and see if the wait for 'Warm Hearts, Cold Hands' has been worth it, or if the hype surrounding the Massachusetts five-piece will end up faltering.
There's little to worry about however, as the state that has delivered Dropkick Murphys, Pixies and Bang Camaro to the world is not about to throw up a damp squib. Opening track 'PunkORama 30' takes its time in getting out of the gates, easing the album into life rather than have the band throw all their cards in at the very start. The minute-long intro leads into a resounding opener that boasts one of the album's best choruses and builds its way up to it in a pounding fashion. Vocals are handled in tandem between pianist Brendan Cahill and guitarist Christine Atturio, and back and forth verses are juggled with well-executed harmonies as the two singers exchange lead and backing duties as the album continues into 'We Are the Only Ones' and 'A Life They Wrote'. Lyrically, 'A Life They Wrote' is a standout track and it leads into 'Same Old Dice' which is one of the record's punchier, more dance-inducing efforts. If not for 'PunkORama 30' then 'Always Knew' would clock in as the album's shortest track, but it's time well spent and as the record nears its half-way point, there is very little to fault in what is best summed up as simple but effective, easy listening pop-punk. It might be the wrong time of year for an album that feels a better fit for a hotter season, but there is definite cause for their consistent placing in categories with the likes of Lemuria and The Get Up Kids, each of whom have spent years honing themselves into icons in America's emo/indie rock scenes. The likelihood is that Save Ends will be right there alongside them some day. There may be some polishing to do until then, but with 'Warm Hearts, Cold Hands' delivering pretty much all you could ask for from a debut album, such a future may not be too distant at all.
Warm Hearts, Cold Hands by Save Ends>
The second half of the record is no less promising than the first, with Cahill delivering some of his best vocal work on 'Skeptical Sons / Curious Daughters', while following track 'Chasing Embers' gives Atturio her own chance to shine in what is by far the highlight of a blissfully solid album. There's a little more focus given to Cahill's piano work over the LP's later stages, and it starts to make itself more noticed between the guitars of Atturio and Tom Ciesluk. The record in general does a good job of giving each band member their moments in the sun, and as a sign for the future, the thirty minute duration of 'Warm Hearts, Cold Hands' is full of promise for a band that you haven't heard the last of by far.
Time flies when you're having fun, and a whole weekend can roll past in minutes when Save Ends are playing away in your speakers. 'Warm Hearts, Cold Hands' is never boring, and it's likely to be the release that over the coming months will really kick things off for a band set to make the second half of this decade their own. They've certainly got off to a damned good start so far.
4.5/5
'Warm Hearts, Cold Hands' by Save Ends is out now on Tiny Engines.
Save Ends links: Facebook|Twitter|Website|Tumblr|Bandcamp
Words by Antony Lusmore (@Metacosmica)