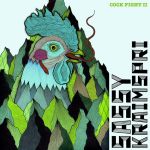 With member names like "Lovely Linda Lustsalot" and "Dick Deviant", I could only hope that Sassy Kraimspri were some kind of 80's punk throwback band. Unfortunately, EP 'Cock Fight II' is actually an unpleasant mangling of genres, trying too hard to masquerade garden variety pop-rock as some form of edgy cabaret grunge.
Harking back to when bands like Porcelain & the Tramps tried to sell pop music thinly packaged as goth, Sassy Kraimspri are a strange throwback, screaming rebellion through overused sex and drugs references. Falling somewhere between Queen Adreena and Dragonette, Sassy Kraimspri's mildly punk-inspired pop aims for sexy, but lands squarely in camp territory.
It doesn't help that 'Cock Fight II' is bloated with cringey, appalling lyrics. The tired metaphor of love as a drug in 'Like a Drug' is bad enough, as they unoriginally proclaim, "I'm not in love I'm just so fucked up", however the crux is the toe-curling moment someone is described as "a Cheshire smile and lanky limbs". This lyrical drudgery is accompanied with the kind of nails-on-a-chalkboard delivery that makes you pray for deliverance. A lasting squeal at the end of one track is painful enough that it needs skipping.
Horrible and dated, it's hard to tell if this is satire or a genuine slice of sass-rock that crawled out of the early 00s. The only redeeming feature of 'Cock Fight II' is it's three track length.
0/5
'Cock Fight' II by Sassy Kraimspri is out now on Ladyluck Records
Sassy Kraimspri links: Website|Facebook|Soundcloud|Twitter
Words by Jay Sullivan