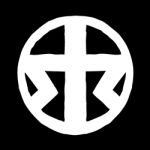 Think Joy Division, think Misfits, think AFI sometime around the year 2000. In many ways this review could begin and end with that sentence. If you're down with those bands, you'll likely be down with Salem Rages. If you're not, you likely won't. Of course there's more to it than a simple 'FFO:' list. For a start 'Aspects of the Deepest Gloom' isn't as untouchable as those masters. It's an excellent debut though. Dark and theatrical – recorded in Yorkshire because that's the last place in England to see a woman burned as a witch. Recorded in a storm. It reeks of showmanship but remains organic, as if grown from the charred earth beneath the stake.
Following instrumental introduction '1692' (the year of the Salem Witch Trials, of course), Salem Rages tears through next half hour in style. Starting strong but growing as the record moves on. 'B.A.T.S.' ( "Burn at the stake!" ) is excellent. Following track 'New Grave' has a creepy piano intro before combusting into more gloom punk magic. Earlier, 'Thirteen Times' (these song names should be telling you what to expect of this record) could be Joy Division covering The Cure. Penultimate track, 'Fall Of Greatness' is top pick though. Featuring some Davey Havok-esque soaring vocals this track nails down the band's fantastic sound.
It wouldn't be gloom/goth/melancholy to end an album without a creepy, slow, chant introduced closer though? Soft vocals, sustained guitars, played over strong, rolling drums. 'Purging The Flowers' is a perfect closing track from a band with influences on their sleeves and the dramatic in their hearts. Absolute class.
4/5
'Aspects of the Deepest Gloom' by Salem Rages is released 28th April on Visible Noise.
Salem Rages links: Website|Facebook|Twitter
Words by Thomas Knott (@thislifeishuge)