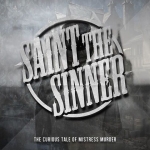 When a particular scene of music starts to become saturated with bands all sounding the same, I have to say enough is enough please. But one band hoping to break the mould and inject something different into the scene is Saint[the]Sinner. Hailing from the UK they boast music filled with breakdowns, orchestral flourishes and strong vocals.
Starting the album with 'Cirque De Pecheur', an introduction with some music box sounds and thunder gives an eerie start to this mini album. 'The Lament' starts off with clean vocals which soon leads into some heavy riffs and gruff screaming vocals; gaining momentum the breakdowns soon come into play with a catchy guitar riff. A song with strong orchestral vibes is 'Greyfields' which lets the fast playing violins flow over the guitar breakdowns as the clean and rough vocals take turns. One trait of a metalcore album is the ability to go back and forth between heavy breakdowns with screaming and clean guitar tones with singing. The band has a song that perfectly fits this on 'Mistakes[&]Heartbreaks'.
One thing the band does is slow things down on two tracks, the softly spoken words on 'Dead Man's Poem' to introduce the last track. And the screaming vocals that slowly build up to a wall of fast guitars on 'Atlas and Compass…Direction Pending', which nicely slows things down for a while.
Last three tracks of the album bring more catchy vocals and orchestral flourishes to the mini album. '[x]Roads' brings a more faster pace with some lead guitar work; with some softly spoken backing vocals it gives it a better atmosphere. A song which I think touches on a territory I think doesn't work anymore is on 'The Projection Room knows All My Secrets', which has a electronic dance beat running through the fast paced song which doesn't work for me at all. Final song is 'The Comedown' which gives the impression it's a last ditch push to impress the listener as everything is thrown into the song. Fast double bass drums are present for the first time as guttural screams lead to a big orchestral sounding breakdown. Soon enough the clean vocals come through, finishing with a slow military drum beat and some group vocals; it finishes well.
For a band that have only been around for two years and racked up a good few support slots, this is impressive. The sound of the mini album is clean and well produced, and every aspect of the band can be heard as nothing dominates. The eerie and creepy sound from the orchestral parts work well and does bring something new to the table. A couple of flaws being that the whole dance vibe in metalcore songs is not needed; it has been done before and didn't work out well for Attack Attack (US) . The guitar work is good as the rhythm is ever present but I'd just like to have heard a bit more lead guitar or maybe some solo's thrown in. Overall a strong effort and a mini album that will no doubt gain them more fans plus some more support tour slots as well.
3/5
'The Curious Tale Of Mistress Murder' by Saint[the]Sinner is out on the 2nd of September.
Saint[the]Sinner links: Facebook|Twitter 

Words by Aaron Wilson (@soundslikeajw)