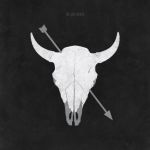 Sad and French are not French, but they are most definitely sad. They are sad about a girl, or a number of girls, with whom relations have one way or another come to an unhappy end, and singing about these girls, these relationships and their consequences is kind of what these guys do.
Although not French, I'm still not totally clear where they do come from. Their city of origin is Brooklyn, New York, but Jose Prieto sings in broken English which is either real or a construction or stylistic nuance to make his vocals more interesting. Either way it's not really so important – he has a decent enough voice and it has enough character to be recognisable.
'Sad and French' is a difficult album to love though, or even like that much. It's folky, acoustic-y punky stuff but with a full band and drummer and so this will inevitably invite comparisons to Andrew Jackson Jihad or Frank Turner. But they lack the invention, charisma or originality of those acts and instead tow a fairly generic line in break-up post-mortem.
Sad And French | Self-Titled by Sad And French
The fact that they obsessively pour over the same subject throughout the album is really quite off-putting. There's no doubt that some songs, like the rather lovely 'Blue Night' are genuinely fraught with emotion and are absolutely honest in their sadness and malaise. But when literally every track is the same story told in a different way, how she broke his heart and he's drinking now and she's with another guy etc, you lose your connection with the music and just start thinking, "Dude, get over it".
Another complaint is that we get no revealing or intelligent insight. A really good break-up song puts into words what you never could. All those times you sat thinking how you could vocalise all the shit you've been feeling and suddenly you're listening to a Brand New or an Alkaline Trio song and you get that Eureka moment. "Holy shit, they said it! They said how it feels!"  Sad and French never achieve this, and instead trade in generic lines like, "Next morning I wake up next to your replacement with a bottle in my hand".
A couple of times, like with 'Cheers To You' and 'Second Floor', they up the tempo and play something a bit more rabble-rousing. Still about the same thing mind, but sung with a bit more gusto and even some gang vocals. 'Sad and French' could really have done with more of this: a tonic to all that desolation and something to lift the album and make the heartbroken moments more poignant. Instead the whole thing is so sombre it gets bogged down in its own misery.
Sad and French are decent musicians, both instrumentally and vocally, and because of this I'm sure that in a live setting they give something more. But as a studio album, this comes across as little more than a twelve track whinge-athon.
2/5
'Sad and French' by Sad and French is out now on Black Numbers.
Sad and French links: Website|Facebook|Twitter|Bandcamp
Words by Alex Phelan (@listen_to_alex)