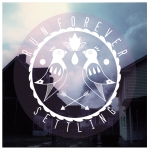 Pittsburgh's punk outfit Run, Forever make a return with their new full-length release 'Settling.' The trio have set out on a relatable and honest path with this record, exploring the areas of life that are common to all but side-stepped by most.  
Opening the release is 'Good Enough,' a track that sets a considerably reflective and pessimistic tone for the record. Home to the lyrics, "When everything's perfect I still find a way to get hurt, and now I'm afraid I'll never be good enough," the track shows a continued replication of this deflating but honest message, with vocalist Anthony Heubel's sounds encapsulating the emotion of the lyrics.  
'Sun Bruised' kicks some energy into the record with upbeat percussion and a rhythm to match in parts. The track has a slower paced mid-section giving room to breathe before it enters a short but infectious pre-chorus hook.  'Basement' initially slows the record back down but then takes on a mid-paced rhythm throughout. I really admire the exploration of the slower side of punk that this record is based upon: the meanings behind the record are perfectly co-ordinated with the overall punk sound.  
Standout track on 'Settling' is live-recorded acoustic 'Braddock Beach.' This track breaks the release up nicely and has a raw sound about it, with nicely worked harmonies during the verses. Another acoustic based track is 'Close To The Sun,' however this time percussion is included to boot energy back into the release. Similar to 'Braddock Beach,' the harmonies work in favour and although same in structure, this recorded track has the crystal clear sounds from the rest of the record.  Finale track 'Forget' ends the record on an upbeat sounding note, with cheerful melodies   
'Settling' is an admirable record but you have to be in the right frame of mind to listen to it. The relatable issues explored throughout the release make this a very brave and honest record, and that's what I like about it. Along with the odd infectious hook and the soft vocals of Heubel, 'Settling' is definitely worth a listen: just not when you're feeling emotional.  
3/5
'Settling' by Run, Forever is out now via Tiny Engines.
Run, Forever links: Facebook|Twitter|Tumblr
Words by Hannah Gillicker (@HannahGillicker)