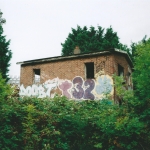 Hidden under the rock that is South London, is a band who are slowly scuttling out, and de-shelling themselves to reveal their brutal nature; Rough Hands is their name. Releasing a self-titled four track 7 inch, clocking under the 10 minute mark, Rough Hands are about to make a name for themselves.
The basic colour scheme is a concise, no nonsense metallic hardcore punk sound. Tracks like 'Dilute' and 'Maledictus' sees this style delivered in a fast violent tempo in the beginning. This then slows along a mid tempo bass rolling shout out or skull smashing hardcore punk breakdown. The main theme channelling through this chaos are the ear piercing yells from Alex Dench.
Whilst this basic, crushing formula rings in one ear, in another small creeping influences of a different nature can be heard. In 'Toska,' an eerie Deftones-esque crescendo appears sandwiched between the madness on either side. Some unusual tweakings and notes shrivel along on final track 'Spite,' which showcases a hint of Snapcase. Such little influences do suggest the potential for Rough Hands to expand on their already metallic hardcore punk sound. This only makes this record and the band who crafted it more of a necessity to a music loving individual.
In summary, Rough Hands have written a solid piece of metallic hardcore craftwork. Its bite firm with lyrics that can in your brain like a glove, and little influences which may see this band grow into something spectacular if harnessed.
4/5
'Rough Hands' by Rough Hands is released on 20th May through Holy Roar, Day by Day, and Illegal Activity Records.
Rough Hands links: Facebook
Words by Aaron Lohan.