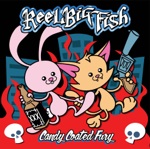 Three years after the release of 'Fame, Fortune and Fornication' Reel Big Fish – the classic Huntington Beach ska party band – return from the studio with their seventh album 'Candy Coated Fury.'
'Candy Coated Fury' is a perfect description of this album. 'PS. I Hate You,' 'Your Girlfriend Sucks' and 'Punisher' are all perfect examples of Reel Big Fish's tongue in cheek aural attacks on those who displease them (which is most people, if you haven't realised already) whilst their love of covers returns with The Promise by When In Rome and The Wonder Stuff's Don't Let Me Down Gently. Unfortunately the cameo heavy 'Hiding In My Headphones' doesn't quite fit in with the rest of Candy Coated Fury with Laila K's auto-tuned voice disrupting the abums flow and taking the pace down a notch. 
Aaron Barrett's almost schizophrenic public persona is as prominent as ever on 'Everyone Else Is An Asshole' and 'I Love You / You Suck.' Has ska punk ever had a frontman who both belittles himself and his fans as much as Barrett? Probably not.
'Candy Coated Fury' isn't a classic album by any means. After twenty one years of writing and recording it's hard to see Reel Big Fish ever producing anything but this brand of over-the-top ska pop and sadly it's all becoming a little old. Still, we all know that Reel Big Fish's real strength lies in their live performances so if this gives them another reason to hit the road then it's alright by me.
3.5/5
'Candy Coated Fury' by Reel Big Fish is out now on Rock Ridge Music.
Reel Big Fish links: Website|Facebook|Twitter
Words by Richard Heaven (@RichardHeaven)