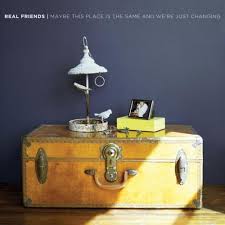 Currently storming the pop-punk scene, Real Friends have released their first full-length album 'Maybe This Place Is The Same And We're Just Changing'. Having been criticised for drifting towards a generic pop-punk sound with their EPs, 'Maybe This Place Is The Same and We're Just Changing' signals that Real Friends are beginning to move in a more exciting direction. As such, their first full-length album is a promising beginning for this Illinois four-piece.
After a short introduction, 'I Don't Love You Anymore' gives us the first full taste of the album. The song follows a standard pop-punk template; the builds, the minimalist parts, the big choruses, and so on. It's noticeable that lead singer Dan Lambton has improved vocally since 'Put Yourself Back Together' in both the strength and breadth of his performance. One element that is unavoidably noticeable is the somewhat pop-punk cliché track name. This theme runs throughout the album, and not in the powerful emo sense, but shows the hyperbolic defeat typical of teenagers to dominate the album; for example, one lyric goes, "I'm just a kid with too much lonely space".
The album grows in strength as it goes on, with my favourite tracks featuring in the latter half. 'Spread Me All Over Illinois' has a different feel to the rest of the album. It has that same pacey verse yet this is juxtaposed by the build to a slower chorus. This adds far greater and noticeable effect to the song than the lyrics do. The song shows consistency in style with a big outro brought down to palm muting and quiet picking. It is undoubtedly a highlight of the album.
'Spread Me All Over Illinois' is immediately followed by 'To-My Old Self', in which Real Friends make another distinct change in sound. This is a quieter and slow paced song, devoid of those typical power chords yet driven by the bass that cuts through the mix effortlessly. A reserved build opens out into those familiar power chords and the shouts of Dan Lambton. Again though, it's weak on the lyrics, for example, "I sleep with the TV on, it covers up my feelings". Lyrically, 'Maybe This Place Is The Same…' is usually weak. It is strewn with examples of such, for instance "I'm moving forward, just like that train". Surely there must be a more vivid similarity than the somewhat boring motion of a train? Bass player Kyle Fasel believes they are "very lyrically connected with fans" and that the music is not "special or groundbreaking". It's more worrying that after criticising the lyrics it is revealed that he had to rewrite half the lyrics as he felt they were "not good enough". I do question whether I am slightly biased and British cynicism is playing a massive part in my opinion as I would rather not have the message behind the lyrics put so simply. If you feel strongly about something, as Real Friends seem to want to show that they do, to compare such a feeling with something so mundane is very disappointing. Similarly, comparing it to something relatable to fans makes it sound more like it's manufactured for its marketability, rather than being a product of raw emotion. Fasel credits this to being "straight up honest" and says that he feared sounding "like an artist". The straight up honesty in 'Maybe This Place Is The Same…' is perhaps too straight up, and so the lyrics lack emotional power.
Despite this album lacking lyrical quality, it does have various strengths. Real Friends have done well to release a solid album especially with their fame gaining momentum at a rapid rate in the UK with seven sold out dates on their May UK tour. In conclusion, 'Maybe This Place Is The Same And We're Just Changing' is a definite improvement on previous efforts but there are still elements that need to be polished off. Here's hoping that their rapid rise leaves them time to perfect their sound.
3.5/5
'Maybe This Place Is The Same And We're Just Changing ' by Real Friends is out now on Fearless Records.
Real Friends links: Website|Facebook|Twitter|Bandcamp

Words by George Isaacs (@TryGeorgeIsaacs)