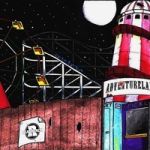 Female fronted pop-punkers Reachback released their debut album 'Adventureland' this week. The Essex four-piece stepped into the studio with Romesh Dodangoda (Bullet For My Valentine, Funeral For A Friend), having extensively toured for the last three years with the likes of Mayday Parade and Forever The Sickest Kids. I couldn't help but just expect something a little more original.
The album does have some catchy tracks with the likes of 'Saviour'; cliché but catchy. Also, you can't deny that everyone loves some "woahs" in their pop punk. However, the riff sounds shockingly similar to Forever The Sickest Kids' 'She Likes (Bittersweet Love)'. Ruby Williams has an impressive vocal range, and yet I felt that they frequently used the vocals to make up for what was lacking in song-writing creativity.
The riffs, although catchy, become somewhat repetitive and elements are often recycled. The darker and less "poppy" track of the album, 'Custom Faded', provided some welcome change in tone. Note-perfect rougher guitars and less refined elements make it a nice change and it feels a lot less strained in comparison to the other tracks, which frequently sound overworked. This is especially highlighted when it's brought down towards the end of the track with an impressive vocal display and rougher guitar tones.
The album is somewhat fun in its nature and makes good positive background music as highlighted by the track 'Get Up'. Ironically, such tracks have in fact been used on shows such as Geordie Shore and Punk'd. I'm sure the tracks translate better live when they become a lot more enjoyable and crowd-pleasing, though 'Adventureland' is not something I would usually go out of my way to listen to.
Although my review has been critical overall, Reachback seem to have an awareness of their target audience within the niche market of pop-punk and I'm sure they will excel within that market. This has already been proven with their performing at SlamDunk, Download and Hevy Festival, as they gain a growing fan base on the way. Reachback's new release, 'Adventureland', is an album that is an enjoyable one if this brand of pop punk is your type of thing.
2/5
'Adventureland' by Reachback is out now on Spectra Records.
Reachback links: Facebook|Website|Twitter
Words by George Isaacs(@TryGeorgeIsaacs)