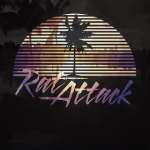 CRASH BANG WALLOP. Such is the path trodden by bands of The Bronx or Cancer Bats' mold, as they effortlessly burst triumphantly through every obstacle in their path, leaving them torn and shattered in their wake. Intense and immediate, their particularly bone-crushing brand of punk rock is readily imitated, but seldom does the quality match the emphatic brutality. In Exeter, however, Rat Attack are building something of a head of steam by channelling these bands' loud fervour yet stamping their own playful character on their new 'Rat Attack' EP.
It all starts with a build-up. 'A Bird In Hand' kicks off restrained and palm-muted, accompanied by a stabbing bass, as it gradually gets dirtier and beefier. Deceptively low(ish)-key on the verse, the riff soon dominates as the band unleash their first powerhouse hook. It still sounds timid in comparison to its muscular final third, a suitable closing to a thrilling ride. 'Facehooked' approaches social network mania tongue firmly jammed in the cheek, its party-friendly vibe and leaner instrumentation forcing the focus onto the amusing theme and lyrics at hand.
Shortest entry 'Look Back And Laugh' is fun enough, though most probably the weakest entry on the EP. Straight-forward and brattish, the track continues the band's party-like angle on lyrics, though perhaps not with the same level of success. A stand-out moment, the gritty 'Heartbeat' mixes tempestual verses with a powerhouse chorus (helped by We Are The Ocean vocalist Liam Cromby's warm tones). Breathless, incisive and catchy, 'Heartbeat' is Rat Attack at their most accomplished. However, closer 'Bad Catholic' also epitomises everything the band do well: a mix of Bronx-esque bravado and a healthy sense of fun both lyrically and sonically.
Rat Attack's debut EP parties hard, and it also happens to party quite well. At the moment, it's still very much a couple-of-friends-around-for-a-horror-film-and-a-couple-of-pints-to-bosh kind of party, but it's surely only a matter of time before the noise brings the curious neighbours in. Make sure you are one of the neighbours.
4/5
'Rat Attack' EP by Rat Attack is out now.
Rat Attack links: Facebook|Twitter
Words by James Berclaz-Lewis