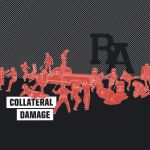 After making a name for themselves in the hardcore scene of their native Massachusetts as well as neighbouring Canada, R.A (Rude Awakening) find themselves on Bridge Nine Records. Their label debut, 'Collateral Damage' showcases natural progression that solidifies R.A's development.
'Progression Through Aggression' opens the album with a powerful introduction. The fast intro to a steady pace matches the grinding as iterated by lines like "I'll never quit" and "take it to the next level", a defiant tone that continues throughout the album. Coming in at just over a minute in length, this brief introduction to 'Collateral Damage' is direct and to the point, like the majority of R.A's songs.
The middle of the album track, 'Path of Destruction', enters with rolling drums and the lengthy chords ring before breaking into a big riff. The more minimal verse highlights the strong and the powerful repeating riff as an outro. This is immediately followed by the album's namesake 'Collateral Damage', with its fast beginnings and considerably slower second half that is brought down by slowing drums and run down guitars creating an enjoyable, diversified sound.
This album saw R.A step into the studio with Dean Baltulonis at The Wild Arctic in Portsmouth, NH (Agnostic Front, Modern Life Is War, Sick of It All). Baltulonis' work is clearly evident in 'Collateral Damage' with its well-polished sound, as it is cleanly-produced and also retains the edgy hardcore elements. It does not sound overproduced and has not lost any of R.A's previous sound that fans have become accustomed to and appreciate.
The album finishes with 'Against The Grain', leaving the lasting impact. Drums and guitar stabs lead to a final breakdown. 'Against The Grain' is quite a fitting track for R.A and 'Collateral Damage'. The album cover represents what the band was aiming for, though it risks being quite cliché. Flat capped, baseball wielding youths fight security workers amongst toxic waste, symbolic of the battle against authority. 'Collateral Damage' isn't ground breaking; it's a pretty standard hardcore effort from R.A.
3/5
'Collateral Damage' by R.A (Rude Awakening) is out now Bridge Nine Records.
R.A (Rude Awakening) links: Facebook|Twitter
Words by George Isaacs (@TryGeorgeIsaacs)