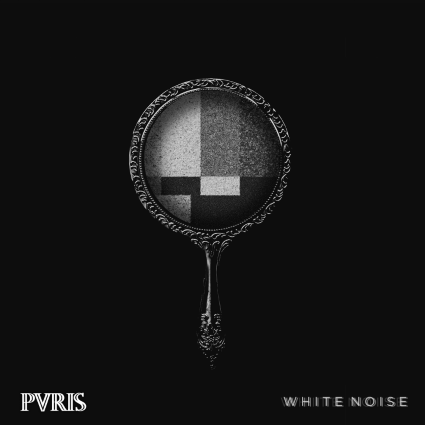 Throughout this year there's basically been one band widely touted as being by far the hottest new act stateside. Atmospheric Massachusetts synth rockers Pvris have been turning heads wherever they've been this year, receiving universal praise for their performances on Warped Tour and enjoying high profile support slots with a string of high profile bands across North America. With acts enjoying quite this much hype it can take a while to see if it's really deserved, with a key moment being the release of the debut album, and this week sees the release of Pvris' first long player 'White Noise'.
From the outset it's clear that the hopes and plaudits being placed on the trio are entirely justified. 'Smoke' kicks proceedings of with a bang, a pounding drum beat demands attention before the synths light the blue touch paper for this rather remarkable debut to roar into life with a first glimpse of the powerhouse vocal delivery from Lynn Gunn. As an album opener 'Smoke' is a great choice oozing class and resonating with undeniable presence and drama, ethereal synths providing the perfect back drop for Gunn to paint her lyrical imagery, the intensity of the synth lines and that pounding drum beat both ramping themselves up ready to break out into towering chorus. It's then left to the lead guitar lines added deftly to the mix only when needed, to add extra light and shade.
Next up it's 'St Patrick' the song largely responsible for generating much of the band's buzz. Distinctly house style synths ease the song effortlessly into life before driving powerchords drift in and out of the mix adding intensity and a refreshing sense of unpredictability, with Gunn once again putting in a titanic shift on the vocal front. There's a crispness and vibrancy to the production which highlights the sterling job Versa(emerge) man Blake Harnage has done guiding the trio in the studio, helping to mould the sound into something that never feels anything less than new, vital and utterly compelling.
'My House' continues in much the same vein, brooding, swirling verse sections breaking out into near euphoric, high tempo choruses. 'Holy' sees Pvris incorporate a more retro edge, with some decidedly 80's keys playing a game of cat and mouse with a darker grooving bass line, while Gunn shows she is equally comfortable giving a more subtle, gentle vocal style. Her moody rasp adding an extra layer of tension and menace to the track which also sees more sparingly but well placed use of echoing lead guitars.
Syncopated beats and a constantly shifting soundscape give title track 'Whitenoise' a unique sense of repeatedly changing from an overbearing sense of paranoia to euphoria and back again, and is a great example of Pvris' innate ability to effortlessly manipulate their listener's mood.
One of the record's few out and out rock numbers is fire which feature's another spirited vocal performance from Gunn duking it out with stattico guitar riffs before breaking out into a feisty impactful chorus. There's then a complete change of pace as Pvris get haunting and sedate on the super atmospheric 'Eyelids', which even features what sounds suspiciously like a hooting owl in the background of the verse section.
There's yet more of those huge pounding drums on 'Mirrors', which is essentially a punchy, electro soaked slice of impressively polished pop-rock. Proceedings take a turn for the gothic once more on 'Ghosts', a catchy yet downbeat poppy number that is one of the few largely guitar centric numbers on the record that should go down a storm with lovers of old style emo pop.
The crossover appeal of both Pvris and 'White Noise' is near limitless, the trio have done an exceptional job of combing the finest elements of house, rock, pop and synth based emo and pull off every one with style and poise, yet without sounding cliché, cluttered or confused about what they want to be. Instead the band confidently shape their myriad influences into a unique and memorable album that is constantly evolving and completely captivating. The potential for the growth of both Pvris' sound and popularity is really something scary to comprehend. Superstar status surely beckons.
4.5/5
'White Noise' by Pvris is out now on Rise Records
Pvris links: Website|Facebook|Twitter
Words by Dane Wright (@MrDaneWright)