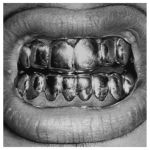 Though it feels odd to review a record that's already been out for 6 months, when it's an album as good as PUP's self-titled debut, a little refresher course in why it demands your immediate attention is warranted. The Torontonians, whose moniker is an acronym for Pathetic Use (of) Potential, originally released this triumphant blast of scuzzy, snarling, belligerent punk rock back in October 2013, and the groundswell of plaudits the quartet have been recieving have seen them sign a deal with prestigious punk label SideOneDummy, unleashing this fantastic LP to a wider audience whom PUP are coming for, whether they're ready or not.
It's a rare privilege to come across a debut as accomplished and emphatic as this – throughout the course of this record, PUP achieve a level of consistency where so many stumble, and manage to maintain their stance of being simultaneously anthemic, aggressive, boisterous and biting for the duration of the album. The listener is hooked within the first three tracks purely for the multitude of dimensions they purvey – from brash opener 'Guilt Trip', which has a sway and swagger reminiscent of Titus Andronicus, to the high-octane rocker 'Reservoir', and completing a relentless triumvirate with 'Mabu', which gives Weezer's geek-rock a 21st century makeover, combining to form an astonishing combo that leaves one breathless.
Even though 'Never Try' marks a point in proceedings where the breakneck speed thus far is halted slightly, don't mistake it for an opportunity for the band to rest on their laurels, as here is where singer Stefan Babcock and his comrades allow their considerable songwriting capabilities to shine through, continued into the fantastic lovelorn ballad 'Yukon'. While the sublime first half of the record sets a standard any band would find tough to live up to, PUP more than live up to the lofty expectations they've set for themselves with the fantastic couplet of 'Lionheart' and 'Cul-de-Sac', the latter bringing out the very best in their four-part harmonies.
This genre so often finds the balance between style and substance so hard to get right, but when PUP start to lose their grip slightly with the throwaway pop-punk of 'Back Against The Wall', they bring it home with resounding finale 'Factories', rounding off this glorious record with an exultant instrumental coda, the sort that will send those seeing the Canadians live home with a buzz swimming round their head for days. The band's sobriquet is inspired by a letter sent to the aforementioned singer Babcock by his grandmother, decrying his choice to spend his life in a band – sorry Grammy, but Stefan and his bandmates in PUP have proved on this eponymous album that this use of their potential is anything but pathetic, and that the four-piece have potential to be so much more than indie blogger darlings. FIDLAR may have made punk rock cool again last year, but PUP have brought legitimacy to being bratty; you may be late in catching this bandwagon, but this is absolutely one you cannot allow to pass you by altogether.
4.5/5
'PUP' by PUP is out now on SideOneDummy.
PUP links: Facebook|Bandcamp|Twitter
Words by Ollie Connors (@olliexcore)