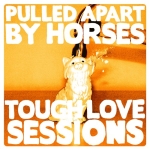 Reading a review for 'Tough Love', the second album by Leeds noiseniks Pulled Apart By Horses, may seem like deja vu for a few of you, given that this record already came out this year, back in January. Just eleven months later, it's been deemed worthy of a re-release by label Transgressive, as a "deluxe edition" with an extra disc of demos, B-sides and live tracks. Why so soon after release is this coming out again?, I hear you cry. Well, the band may have felt there was so much unreleased gold that wasn't included the first time, but with a rather shoddy cover of Nirvana's 'Tourette's included, that's rather doubtful. Perhaps a re-release in December may bring it back into the forefront of critics' thoughts? Perhaps, albums released earlier in the year tend not to do so well in end-of-year lists, but if the band have enough confidence in this album, they wouldn't deem it so forgettable. Or perhaps, in the wake of a recently cancelled tour of venues encompassing the likes of the 2,500 capacity HMV Kentish Town Forum, they may require some supplemental income? One would never dare to be so cynical…
Whatever the reasons may be for this "deluxe edition", Pulled Apart By Horses remain a shining beacon amongst a greying, homogenous slagheap of UK indie rock bands. Rough, ready and raucous, this release builds on the fine groundwork laid down on 2010's self-titled album, which was essentially a compilation of previously released tracks. Lead single and first track 'V.E.N.O.M.' bursts out of the traps wildly, snarling, growling and biting with an energy seen in the very best punk and grunge bands, but with a vibrant undercurrent of groove and an ear for melody. These songs sound far more full-bodied than ever before – where the band have traditionally been at their greatest in the live arena, this proves they have the chops in the studio to back it up. Fuelled by the nous of producer Gil Norton, whose previous credits include Foo Fighters and Pixies, 'Tough Love' represents a real body of work, rather than the rushed début.
All the elements that made them so exciting to begin with feel stripped back and honed here – the onus is on the strength and the driving force of the riff rather than the energy it's delivered with, like on 'Epic Myth', which has a sound that brings to mind the 'Songs For The Deaf'-era glory days of Queens Of The Stone Age. Even the song titles are not as unwieldy as 'I Punched A Lion In The Throat' or 'I've Got A Guestlist To Rory O'Hara's Suicide' from the initial offering, other than possibly 'Night Of The Living (I'm Scared Of People)', ironically also the longest track on the album at just under 4 minutes, which gives you an idea of PABH's "smash and grab" style – short songs that leave a lasting impression. 'Tough Love', as the name might suggest, is a lean mean rocking machine, as strong cuts like 'Bromance Ain't Dead' prove.
So what of this bonus disc, entitled the 'Tough Love Sessions'? Well, 'Blue Jeans' is certainly, erm, interesting – an 80's-style rocker that sounds like an unholy cross between Cheap Trick and Motley Crue – certainly a curveball emerging from nowhere, and one long-standing fans of the band may like to treat with caution. 'Somersault' sees the band take a darker, almost gothic direction, an interesting porposition for album number three if it were to be expanded on. Other than these two, the extra tracks prove very standard fare – not necessarily poor enough that you can see why they weren't included on the record; they're very much of the same vein, however something had to give way for the album to retain its slickness and compactness, and these offerings will bring much joy to completists.
This special edition isn't just for the collector nerds though – it's a fine chance to catch up on a top-notch record you may have missed. 'Tough Love' sees the band really coming into their own, and its release rightly led to prestigious festival slots in 2012. As 'tis (at the time of writing) the season to be jolly, if you've got that little brother who's just discovered Green Day and Nirvana and wants something a little more, this may just be perfect – snotty, scuzzy noise at its most belligerent and unapologetic.
4/5
'Tough Love (Deluxe Edition)' by A Pulled Apart By Horses is available now on Transgressive Records.
A Pulled Apart By Horses links: Official Website|Facebook|Twtter
Words by Ollie Connors (@olliexcore).