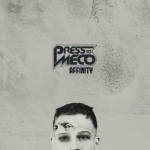 Press To Meco certainly have an innovative unique style and sound. Their instrumental talent is infallible with their catchy sweeping melodies and influential heavy beats. 'Affinity' is a hard-hitting rock EP that certainly packs a punch or two.
The band has two vocalists, Luke Caley and Adam Roffey, the two overlap and entwine with one another throughout the tracks to create an upbeat angelic sound. However, I have to admit I am slightly uncertain if this technique works, by using backing vocals it just makes it plain cheesey. The vocals just don't compliment or work in harmony with the heavy instrumental rock vibe.
The EP begins with the title track 'Affinity', which has a fantastic profound fast-paced beat with electrifying riffs. The tune is captivating and creative, with powerful strings and drums. Next is 'Wasting Time' which has a slower-pace, but still using those inventive thrilling riffs and extensive melodies. The chorus is fantastically catchy; however we have more angelic vocals that simply clash against their heavy rock sound.
This follows with 'Honestly', the standout track from the EP, which follows in the incredible rock sound, but we are delighted with heavy punk-style vocals with raw punchy screams. The various elements in the track are finally working together, along with the playful uplifting melody.
Throughout the hit 'Tired Bones', the vocalist gives a fantastic performance, and we are pleased with the prevailing instrumentals. As the EP closes on 'Love and Reason', I can't deny that I was disappointed. The vocals sound like two vocalists battling against one another in a singing battle. However, instrumentally the track is awesome; the melody, instrumentals, and the breakdown are all purely exceptional.
Press To Meco are an instrumentally gifted group, the melodies are terrific and the bass guitar works wonderfully with the electrifying rocky riffs from the electric guitar. I personally just can't stand their vocal style, it may just be of personal taste, but to be frank it doesn't sit well with my ears. There's room for improvement, but nothing is ever perfect right?
3/5
'Affinity' by Press to Meco is released on 27th May.
Press To Meco links: Website|Facebook|Twitter
Words by Chantelle Kelly