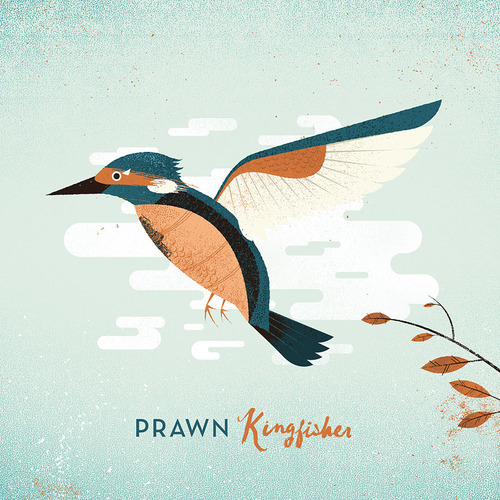 Prawn have been playing their trade for seven years now, and whilst they may not yet be a household name, that could easily be about to change following the significant accomplishment that is this, their second full length, 'Kingfisher'.
The more you listen, the more you learn about this band and your initial preconceptions change almost continuously. As you begin listening to first track 'Scud Running' your initial thoughts may be of another emo revival band, albeit a very intelligent and accomplished one, in line with the recent trend we've seen with bands like You Blew It! revitalising the genre.
But there's something more here than that. The way the guitars intricately dance and weave around each other creating these wonderfully patterned riffs can sound at times like early Hot Water Music, and in other moments far more subtle and distant from the world of punk rock or anything associated with that term.
These tracks have a definite post-rock mood to them, particularly in the way the chords chime and reverberate to create a mood. This music is more about a vibe and a musical energy than it is about head-banging or finger-pointing.
It's wonderful to hear how 'First as Tragedy, Second as Farce' gradually builds and lifts. It feels like the kind of style that Brand New were striving towards but never quite reaching with 'Daisy'. Prawn have freed themselves from the constraints of the pop structure and are allowing their music to breathe and flourish, whilst still being able to borrow all the melody and joy that their emo influences can provide.
This music has the kind of power and momentum that Braid are so astute in creating, generated by using the depth and complexity of  the music rather than more common aesthetics like power and speed. These tracks are all about composition.
Singer/guitarist Kyle Burns possesses very much his own vocal style. It definitely has a New Jersey feel to it but it rings clear and coherent in the mix, and adds to the overall vibe of the band by carrying the mood in much the same way as the instruments do. His lyrics are smart and carefully chosen.
This record was a revelation for me as I had honestly never heard of the band before, whilst I'm sure plenty of you out there won't be surprised by how this band have created one of the best releases so far this year. It's something very different that appeals to fans of a broad selection of genres, and most importantly it's a collection of fantastic tracks that will keep your stereo happy for a long time.
4/5
'Kingfisher' by Prawn is out now on Topshelf Records.
Prawn links: Facebook|Bandcamp|Twitter
Words by Alex Phelan (@listen_to_alex)