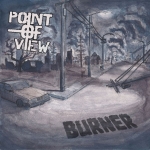 'Burner' is a refreshing little EP to listen to; it's uplifting, bouncy and also gives a slight sense of reminiscence as well. For the ska punkers out there who enjoy bands like Less Than Jake and pre 'Dookie' Green Day then you'll love this short five tracked EP.
Starting things off slowly with 'Burner' the ska guitar sound comes through with some melodic sounding vocals. Soon enough some heavy sounding and fast punk riffs come in and bounces back to the clean sounding ska guitar sound. 'Home' kicks in with some catchy melodic guitar riffs and bass lines as lyrics run through the song about life come in, "I've given them all my time, take me away from this nightly grind". The song is a nice punk rock song about the typical situations that everyone goes through in life.
<a href="http://hellamadrecords.bandcamp.com/album/burner" data-mce-href="http://hellamadrecords.bandcamp.com/album/burner">Burner by Point of View</a>
A song which is very much a guitar based song is 'U-Turner' which is thick with some intricately woven guitar sounds. Covering both the catchy melodic sound and the heavy punk riffs, the riffs bounce everywhere and bring an unpredictable fresh sound to a straight punk song. Another straight forward punk rock song is 'America's Finest' as the fast guitar riffs run through the song with the odd catchy leading guitar riff; it allows for some nice sounding dual vocals.
Last song on the EP is 'Arizona Sun'. With some lead guitar work it then drives into some fast punk riffs; soon enough the melodic vocals cut through the riffs and drive the powering punk song. A nice upbeat song to finish off what is a sunny sounding EP and a refreshing change to all the guitar filled pop punk out at the moment. With some ska influences and some nice sounding guitar melodies it's a welcomed change to my ears. Only downside is that it won't interest too many people who rely on the fast, seriously catchy pop punk songs we hear from so many bands.
3.5/5
'Burner' by Point Of View is released on 29th March on Hella Mad Records.
Point Of View links: Facebook|Twitter|Bandcamp
Words by Aaron Wilson (@soundslikeajw)