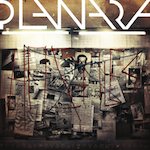 I'm not going to lie, the Russian metal scene isn't something I know a great deal about. However, if it's all as good as Planara's new EP 'Hostiles', I think i'd like to hear some more of it!
This 5 track, self released EP is filled to the brim with energy, aggression and as the PR quite rightly describes it, cataclysmic. The guitars crash in hard and fast, the riffs are simple but well placed, and whilst the vocals sound like quite a lot of the American style post-hardcore bands out there, they strike through and balance out against the quite frankly brutal rhythm section. Add in some infectious electro-synth riffs and rhythms, and you've got a very full and deep sounding release.
EP opener and namesake 'Hostiles' is a pacey, no holds barred alt-metal fest of a tune and its only beaten by the next track, 'One the Run', which is heavier and faster! It's probably worth mentioning that this band have only been active for a few months, so to pull something like this out of the bag means the forthcoming full length summer EP is something to look forward to. They've blended elements of the more straight forward metal/rock songwriting methods with some well polished tech metal elements that give them an edge.
It's fresh, it's quite unique, and its Russian. A definite hit for fans of Sleeping With Sirens, Thrice and Sevendust, the 'Hostiles' EP is short and sweet at 4 seconds short of 20 minutes (Which is more or less my commute to work, which is handy), but it packs a lot of punches, and its catchy, hooks a plenty and a definite ear pleaser. Roll on the 24th, this needs to be heard.
4/5
'Hostiles' by Planara is released on the 24th March.
Planara links: Facebook
Words by Luke Crook (@paisleysoul)