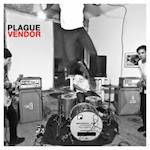 With 10 songs coming in just under the 20 minute mark, California's Plague Vendor clearly have no time for substance with this debut effort. On 'Free To Eat', the recent Epitaph signees' LP is a brash, frantic record but leaves a good impression.
The opening bars 'Black Sap Scriptures', the band's garage punk influence is very much in tact with rowdy vocals courtesy of Brandon Blaine and razor-sharp guitar lines from Jay Rogers. It's unrelentless tempo is something that grabs hold of you early on and doesn't let go for the next 20 minutes.
'Cursed Love, Hexed Lust' sees Blaine raising his game with swaggering vocals whilst being backed by jangly guitars giving the track some form of distorted pop hook. 'My Tongue Is So Treacherous' opens with a ear-pinching squeal before settling into a loose, energetic example of surf punk.
On first listen, 'Free To Eat' comes across as 10 quick-fire examples of Iggy and The Stooges-esque garage punk, but on further listens, you discover Plague Vendor are more than that. 'Plague Vendor' is a choppy, fuzzy number with Blaine's vocals becoming more erratic. Whilst 'Seek The Ruby Scarab' is vibrant and ferociously executed, and 'Garden Lanterns'  is a groove-centered jam that gives way to the concluding 'Neophron Percnopterus', which screeches the LP to a halt.
Overall 'Free To Eat' has all you could want from a straight up punk record. The 10 songs on here come across as genuine.
Plague Vendor are thoroughly raw, and in Brandon Blaine, they have a vocalist who has confidence and an attitude to expand the bands hybrid sound of punk, thrash and garage.
Although 'Free To Eat' lacks longevity, Plague Vendor make up for it with an unrelentless and reckless sound that deserves repeated plays.
3.5/5
'Free To Eat' by Plague Vendor is out now on Epitaph Records.
Plague Vendor links: Facebook|Twitter|Instagram
Words by Sean Reid (@SeanReid86)