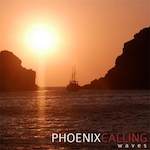 'Waves' is the debut EP from Cambridge rockers Phoenix Calling. Fans of Young Guns and Deaf Havana will certainly find something to enjoy in the band's arsenal – filled with delay soaked leads and singalong choruses designed to sound as 'big' as they are radio-friendly – but I had a hard time engaging with anything the 15-minute run-time had to offer. If this release is anything to go by, the band will probably go quite far on their professionalism and talent for palleting songs but peter out or maybe even just straight-up fail to deliver when the time comes for them to innovate and grab people's attention. I say this because the EP, while impressively competent in its composition for a young band, makes no discernible attempt to separate itself from the status quo among the many bands doing the same thing.
For me, the key problem with the EP was that it gave a 'paint-by-numbers' impression. The influences, or at least stylistic similarities, for the band are obvious but where many bands use their obvious inspirations to leapfrog into something unexpected or develop the genre, Phoenix Calling seem content to take the tried and tested route and make sure there are no cracks in the veneer. For example, opener and first single 'Everybody Knows' follows the familiar formula of alternating between huge sounding choruses backed by simple repeating lead licks with clean, subtle verses and interludes that tend to build predictably. The rest of the EP more or less follows suit, variating on the same motifs and making sure not to stray too far from the conventional.
'Waves' may do little to impress in the creativity stakes but it is undoubtedly one of the most solidly recorded and produced debuts I've heard, perhaps ever. How much of that is down to the producer or the band is hard to tell, but it is obvious that the band has a clear picture of how they want to sound and the skill to bring their ideas to fruition. Every "woah" or catchy chorus is placed in the arrangements of the songs with machine precision and the tracks are recorded flawlessly, not even taking into account the impressive mixing and mastering chops on display.
If you aren't picky about your straight up British radio rock and you appreciate well-constructed songs then you will probably get a kick out of Phoenix Calling, but for me the considerable effort put into the slick composition and production was not enough to overcome the lack of substance and safe approach to the music itself. Without the need to repeatedly listen and get a feel in order to review this EP, I probably wouldn't have considered picking it up again.
2.5/5
'Waves' by Phoenix Calling is released on 20th January.
Phoenix Calling links: Website|Facebook|Twitter
Words by Ben Kosma (@BenKosma)