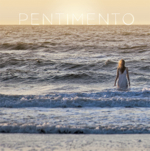 Releasing their first full length, self-titled album, punk rockers Pentimento deliver a dynamic, multi-faceted, addictive collection of songs that range from punk, indie, pop, and rock. 
There is something for everyone on 'Pentimento'. This album has an interesting mix of genres that keeps it from being pinned to just one. The mix of sounds enables Pentimento to keep every song interesting and fresh, each with interesting arrangements, layered vocals, and real raw lyrics that speak to human experience. 'Circles' is the perfect example of these elements. The instruments actually sound like they're going in a circle, with dual vocals that a add depth that draws you in.
'Pentimento' has an addictive quality. This album is well written, well composed, and well played. 'Almost Atlantic' has a mysterious quality with many layers of sound that you want to keep listening so you can discover them all. 'Subtle Words' has an indie, Death Cab For Cutie vibe with just enough of a punk edge to give it a dynamic, compelling sound that is hard to stop listening to. 
The range of styles Pentimento is able to infuse into this album is impressive. The opening track 'Unless' breaks in with a fast-paced punk sound that you think is going to set the tone for the album. Then you get to 'The Bridge', a bright and pretty acoustic track with poignant lyrics that cut through their sound and speak to listeners with lines like, "It's not about hate. It's not about pain. Just compelling waves of thought that seem to wash over your brain and they're whispering, 'do the right thing'".
There is a lot going on in this album which is why there really is something for everyone. But besides the infectious melodies and driving rhythms there is the message in each song. The lyrics in this album are moving and true-to-life. It's written in a way to speak to everyone. Drummer Michael Hanson said in an interview, "Just because we happen to put the pen to paper in some particular instance doesn't make these songs anymore ours than they are yours. Our music is about the things that belong to us all. Our encounters, our hardships, our triumphs, our ideas, our perception, and the human experience".
'Pentimento' is an incredible début album. It sounds polished, professional. It sounds like this band knows exactly who they are and how they want to represent their experiences through music. Pentimento has a solid sound that carries through the album and this sound will bring them strong standing with newcomers and fans.
4.5/5
'Pentimento' by Pentimento is released on 13th November on Paper + Plastick Records.
Pentimento links: Website|Facebook|Twitter|Tumblr
Words by Jenny Gagas (@Jenny_herself)