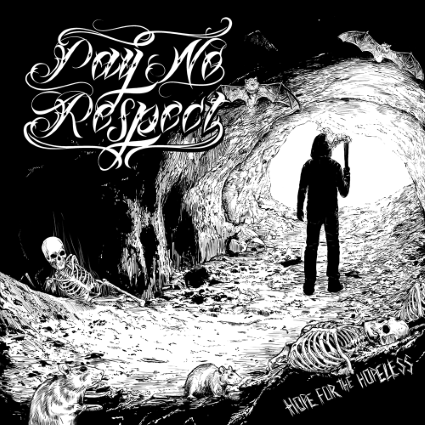 Don't you just love familiarity? It's always comforting when you listen to something so safe and predictable…Did I just say predictable? Of course I did! Don't get me wrong, when a band does follow familiar genre tropes, it only pays off when there's a spark, making you think, "I must buy everything by this band and I must see them at every show!" If such a spark doesn't exist, the material falls flat on its arse. At this point, you may be thinking that I've written a negative review on the new EP by Kent hardcore mob Pay No Respect. However, I'll keep my personal preferences at bay, and lay out its few good qualities as well as its bad points.
Beginning with the positives, 'Hope for the Hopeless' has been solidly produced by Feed the Rhino bassist Oz Craggs. The meatiness of the sharp riffs, guttural vocals and bludgeoning drums has been well captured on tape (in a manner of speaking). There are gang vocals galore, plus songs like 'Face Defiance' sound like a steel toe capped boot repeatedly stomping on someone's head into a pulpy, bloody mess. Unfortunately, this is where the catch to the record comes in. Whilst such imagery should be irresistibly memorable, it becomes clear that once the needle has been lifted, you find this record to be very forgettable.
Basically, it's difficult to pick apart one track from the other. For instance, I can't tell the difference between the title track and 'One Chance' as the use of breakdowns, gang vocals and structure are so similar. Maybe it's just me? Perhaps I feel too old to get into this style anymore. Sure, there's a drive to it, yet I can't help but feel so utterly bored. I'd find smashing my head with a mallet more entertaining than this. Regardless of my tastes, would I recommend it to somebody who digs beatdown hardcore more than I? Everyone's tastes are different, so I'd let the fans this band target to judge it for themselves. All in all I guess I have written a negative review. There are better, more interesting hardcore bands out there. I my opinion, Pay No Respect aren't one of them.
2/5
'Hope for the Hopeless' EP by Pay No Respect is out now on In At the Deep End Records.
Pay No Respect links: Website|Facebook|Twitter
Words by Aaron Lohan (@ooran_loohan)