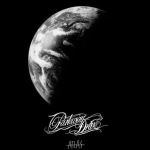 Australia's metalcore quintet Parkway Drive returns with their eagerly anticipated fourth record 'Atlas.'  Waiting two years since their third full-length 'Deep Blue,' fans have finally been given the chance to get their hands on the band's latest offering. The new release coincides with a UK/Europe tour that takes place next month with support from Emmure, The Word Alive & Structures.
'Sparks' opens the record on a calm note, creating an ambience with soft guitar and bringing in spoken vocals. Emotions rise further with the introduction of Winston McCall's dark roars and Ben Gordon's destructive drums. This calmer ambience is soon waved goodbye to with 'Old Ghost / New Regrets,' a track that surges with greater energy by introducing heavier riffs and rapid drums. 
'Wild Eyes' opens with a group vocal chant which is repeated later in the track, these sections guaranteed to work well in a live atmosphere. McCall experiments with his vocals in this track, producing more haunted roars in parts and this combined with the dark breakdowns make this the heaviest track on 'Atlas' so far. The record is significantly slowed to start with in 'The River' yet Parkway Drive doesn't lose the heavy atmosphere that has already been created throughout 'Atlas.' Their intricate riffs are even more apparent in the slower sections of the track, with less focus on the drums than in heavier offerings. 
Title track 'Atlas' opens with lone drums, with the welcoming of soft guitar in the foreground of the track and background vocals, mirroring a similar ambience that was created in opening 'Sparks.' This is a possible favourite for me on the record, with Parkway Drive experimenting with the more atmospheric side of metalcore yet keeping their heavy presence alive at the same time. 
Nearing to the end of the record and after several listens I have liked every track so far; but there seems to be a repetitive element in Parkway Drive's sound every now and again. This may be because I haven't listened to much of their material before but I feel like most of the heavier tracks merge into one. Nonetheless, 'Snake Oil and Holy Water' is a very admirable, technical sounding track with bullet-speed riffs and drums throughout, complimented as usual by McCalls haunted roars.
All in all 'Atlas' is a very commendable fourth full-length record for Parkway Drive. The five-piece take the listener on a journey that twists and turns between calmer and heavier tracks and although there seem to be areas of repetition, 'Atlas' is a well written record that I'm sure fans won't be disappointed with. 
3.5/5   
'Atlas' by Parkway Drive is available now on Epitaph Recordds.
Parkway Drive links: Official Website|Facebook|Twitter
Words by Hannah Gillicker (@HannahGillicker)