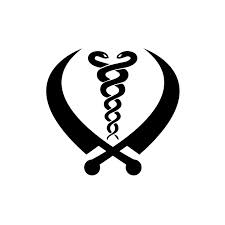 Park are an American emo band from Springfield in illinois, and like many bands of this ilk, they've seen a tumultuous time full of lineup changes and breaks. This EP 'Jacob the Rabbit' marks their first release of new material in 8 years. Not only that, but it's the beginning of a series of concept records which should act as an accompaniment to a book written by singer Ladd Mitchell. So far, so ambitious. I'm interested in a good concept record, but i sometimes feel it's hard to toe the line between making something interesting and tying it in with your concept without labouring your point.
Thankfully there's not a lot of that here, and the tracks match well with three fairly distinct moments in the prologue. The opening track, 'Lepus Fugam', starts with a thunderclap and builds up that stormcloud tension with fizzing guitar fuzz and galloping drums, while some guitar play that younger Thrice would have been more than happy to have dreamed up gives us a sense of a figure with an urgent need to get away. The sweetly sung vocals layer up and seem to narrate the story, and when a blow is driven on guitars, the world sinks away and the track seems to sink out of focus, in line with the characters perception of the situation.
If track one is about atmosphere in the audio, track two is very exposition and description heavy with vocals, but this seems to give a different viewpoint of the story we're given from the prologue on the website. It has really quickly paced drumbeat like a quickened heartbeat, which adds to the tension and the song is carried by the vocal line, but with the guitars filling in some riffs that play off the vocals like an argument being waged. The closing track, 'Tickling the dragons Tail', has a dreamy breakdown where the main protagonist is clearly drifting off into thought and the vocal harmonies convey this rather than instruments. My only gripe would be that some of the vocals were hard to latch onto at first, and so without reading any of the background, I'd have been a bit clueless at trying to work out why this bit needed the dreamy sounding interlude
Regardless of maybe considering doing a bit of reading while you listen, this is an EP of intricate, layered guitar riffs and poppy vocal harmonies which will suck in fans of 'AITA' era Thrice, Circa Survive or Thursday, and even without any real awareness of the concept, the music can be enjoyed as standalone tracks. I decided to give it a listen before reading the story that accompanied, and was happily able to give it a listen and appreciated that it was well crafted and would stand on its own. With the added reading of the prelude piece on the website, I got a further appreciation for what they've done with each track. It is ambitious but has been achieved without trying to overstretch to make it work with this first release. I'll be looking forward to hearing how it develops in the full length. Cool Idea, Park, and I can't wait to find out what happens next. If you're interested in seeing a story being developed through a few releases, this would be one for you.
4/5
'Jacob The Rabbit' by Park is out now on Bad Timing Records.
Park links:Website |Twitter|Facebook
Words by Heather Robertson (@thecuriosity)