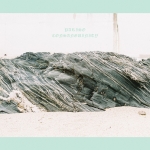 It takes a lot for a man to admit when he's wrong. Earlier this year, when Pariso had an off-day supporting Narrows, I dismissed their new material as "characterless and generic". However, "Consanguinity", which has been released completely spontaneously ("no build-up, no pre-order, no hype", the band state as the rationale behind such a decision) puts my tail firmly in-between my legs; as though their approach is still mostly forceful and brawny, there is a considerable amount of heart behind this work; behind the fierce and aggressive exterior lies a – dare I say it – tender side, and consequently, 'Consanguinity' shows a new dimension to Pariso rarely seen before.
Previous full-length 'Nothing Beyond Everything After', which preceded this release by just over a year, was a juggernaut of a record with all the subtlety of a brick to the face. There are moments that recreate that level of ferocity, such as the one-two punch of 'Maniai' and 'Pigs' (two ready-made mosh pit favourites) that represent the more traditional Pariso aggression, it's when 'Tower Of Genus' kicks in that things really get interesting.  Featuring the vocal talents of Katie Malco, this slower-paced number has a feel of latter-day Bring Me The Horizon about it, and may just be the most emotively raw thing Pariso have recorded to date.
<a href="http://pariso.bandcamp.com/album/consanguinity" data-mce-href="http://pariso.bandcamp.com/album/consanguinity">Consanguinity by Pariso</a>
Another guest appearance, this time Daniel Mills of Cold World sharing the mic with Pariso vocalist Mazz Gambardella, on 'Trolljegeren' triggers a more atmospheric take – the riffs are still gargantuan, but the album benefits from relenting its full-frontal assault, if only for a brief moment. The lyrical themes of this record are predominantly based around family and relationships, which inspires some introspective and moving lyrics from Gambardella, particularly on tracks like 'Montserrat'. An injection of new blood into the South-East London quintet in the form of guitarist Alex Heffernan has served them well, as his technical attributes shine through on tracks like 'The Separation'.
'Consanguinity' isn't without its faults – there are a couple too many throwaway tracks like 'Methuselah' and 'Equivocation' that distance it from greatness, but this record has definitely proved Pariso are more than a "silly t-shirt band" (the words of guitarist Alex Fitzpatrick, not mine). This has developed in the right direction from earlier efforts – another brutish display would have sounded a little stale, but Lewis Johns (producer of many fantastic UK hardcore records) has ably aided Pariso to discovering other facets to their output. Best get off now, that humble pie is about ready to come out of the oven.
3.5/5
'Consanguinity' by Pariso is out now on Tangled Talk Records.
Pariso links: Website|Facebook|Twitter
Words by Ollie Connors (@olliexcore)