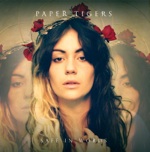 Listening to these for the first time, my first thought was that they sound quite like Kids In Glass Houses. I watched the video for 'Back To You' before I listened to the EP, and was majorly impressed. They have a good, strong sound, great hooks, and can really write a song. The singer has a voice that is similar to that of the type of singer of American bands garnering lots of attention at the moment, such as Sleeping With Sirens – a higher pitched voice, but that sounds powerful in the heavier music played. 
Having had the EP on repeat to get to know the music, I liked them immediately. With bands such as You Me At Six having gained such a huge fan base and becoming quite successful, it's obvious that there would be a lot more bands of that sound breaking through into the scene; Paper Tigers are not that similar to You Me At Six, but they have that radio friendly edge to their music that will do well for them, and from this EP, and just learning that their video for 'Back To You' has been picked up by Kerrang! TV, I am not surprised at all.
The EP starts off with 'Summer On Blossom Street', starting off strong, with that You Me At Six edge showing through. The chorus' hook boasts the EP title, making it easy to sing along to straight away. Showing early signs of clichés, before the 2nd verse the 'na na na's are quite cringeworthy, although used by Kids In Glass Houses – an obviously big influence of theirs – it may have been to fill out the riff played, but it's quite unnecessary. It's used again in the bridge after the 2nd chorus, but only very briefly again, luckily, and as background vocals, which are hardly noticeable, but overall, the song would have benefitted either without it, or with something less cliché. 
Vignettes' opens with a strong chord progression, and powerful drums, a great start to the track. The vocals have that innocence to them that do a lot for the music – again similar to Kids In Glass Houses – along with the addition to another vocalist taking the lead for a moment. The chorus is very powerfully sounding, although doesn't have that the hook necessary to make the song memorable. The song gets a bit repetitive, a few slight changes, but it doesn't really have anything memorable about it. A good song, but not memorable. 
The strongest track, and perfect choice for a music video 'Back to You', is a great song. Honestly really do love this song, had it stuck in my head. Having shown my friends the video, they've all liked the song too. The chorus of a song is supposed to be the catchy part, but even the verses in this song are quite catchy too. The vocalists compliment each other very well in this song too. The bridge after the 2nd chorus seems a little cliché again, but is still very strong, and I can't imagine it being any better. Ending with the chorus again, you will be singing along on first listen. Good job guys.
Ending with 'The Whistleblower', repeating myself again, the song starts off sounding very similar to Kids In Glass Houses – don't get me wrong, I love Kids In Glass Houses, and it works well for this band, it's just a big similarity. The song has some 'woahs' included, but it works perfectly. Another strong chorus, very 'big' sounding, although it doesn't seem to be catchy enough again, the 2nd half of it, as with the first two songs, has the line you'll sing along to, but you'll only remember it as you listen to it, as it gets quite repetitive. The song ends with a big sing-along hook that catches your ear as you listen to it – this would sound great live. 
The EP is a good strong EP, represents them well, and with 'Back To You' being released as a single, getting played on Kerrang! TV, I have no doubt they'll gain many fans, although it's the only really memorable track – the other songs are good, just possibly overshadowed by 'Back To You'.
3/5
'Safe In Words' by Paper Tigers is out on the 5th November.
Paper Tigers links: Website|Facebook|Twitter
Words by Callum McPhee.