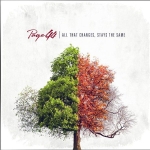 Having been around since 2004, unsigned pop-rock band Page 44 are no strangers to the UK music scene. They've toured consistently the past 9 years and they've supported bands such as The Red Jumpsuit Apparatus, whilst even appearing on Channel 4's 'Popworld' (remember that?). Throughout their time, they've managed to release 6 EPs as an unsigned band and are now releasing new album 'All That Changes, Stays The Same,' through fans via Pledgemusic and also through their 2011 Red Bull Bedroom Jam win.
What I expected to hear from the band's debut, was a summer album with catchy hooks and choruses; and whilst it delivers that, it's still somewhat underwhelming. Opener, and also recently released single, 'Answers', is a standard pop rock song, much in the vein of other British bands such as Attack! Attack!. Tracks like 'No Truth At All' have the potential to be good pop-rock hits but it just doesn't pick up; whilst, 'Only For The Night' is simply just boring.
'Closer' is a dancey number, but you just get the feeling that they're trying too hard and it just doesn't work. The album comes across as very generic and samey, you've heard these tracks a million times and they are certainly not the only bands out there doing it or have done it. One of the better tracks is 'Growing Pains,' it loses the boring, forced vocals and shows their better pop-punk side with an added bite with rough but catchy guitar parts.
A lot of bands tend to start making a change of direction musically, especially when line-up changes occur; but in 9 years, you often wonder if they're ever going to push the boat out a bit. 'Siren' is nothing special; there is no clear direction in the track and it doesn't even try to get the listeners attention. However, it's fair, in my opinion, to say that the second half of the album is much better though; despite 'Siren', acoustic track 'Hide and Seek' changes up the vibe; and although it's nothing spectacular, it makes a nice change from the previous drab tracks.
'I Wish You Luck' has similarities (although that doesn't mean that it is as good) to 2007-era Funeral For A Friend; it's almost addictive to listen to. 'Watch Me Fade' has all the elements of pure power pop, it's stupidly catchy and you just know that pre-teen girls will lap this up; not that there's anything wrong with that, it's just clear who their audience are.
Although it's not possible for every band to be original, there are instances like this where you do think "Will you just TRY to be a little bit different?" and if you love generic, sickly, pop bands like Go:Audio, then you'll probably love this album, but it just doesn't stand out musically, in any shape or form for me.
2/5
'All That Changes, Stays The Same by Page 44 is available now.
Page 44 links: Facebook|Twitter
Words by Sarah Russell