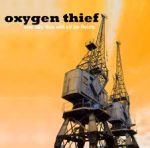 To me, acoustic music is a genre. Playing a heavy song on an acoustic guitar doesn't make it an acoustic song, it just means it's in the wrong context. If you arranged said song and played it incredibly mellowed out and slowed it down a bit then yeah, it'd be an acoustic cover. Playing the song exactly how it is on an acoustic is not.
And from the previous paragraph you can probably assume my stance on Oxygen Thief's newest EP 'One Day This Will All Be Fields'. The opening track 'Badge Of Dishonour' initially threw me way of course for what I expected from an acoustic EP. All of the songs are very much what I wouldn't expect from an acoustic EP, and are instead what I imagine are rock songs played on an acoustic guitar. Chords are flying around everywhere and incredibly prominent vocals really, really do throw me off.
But the real thing is that in a full band playing these songs electrically would be much better suited, and in this established scenario, I would probably rather enjoy them, in a sort of slightly math based, angular Reuben-esque vibe. So whilst these songs are intriguing and have caught my attention, be it not for the best of reasons, I can only hope that their electrical embellishments will be much better suited, and what my ears are expecting. Good songs, wrong output.
2.5/5
'One Day This Will All Be Fields' by Oxygen Thief is out now on Xtra Mile Recordings.
Oxygen Thief links: Website|Facebook|Twitter
Words by Mikey Brown (@MikeyMiracle)