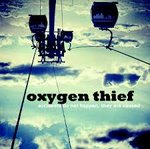 Urban Dictionary defines the term "oxygen thief" thusly; "Someone so completely lazy or useless that their only effect on this earth is to use up oxygen that could otherwise have been consumed by someone who doesn't deserve a solid kick up the arse." One would not be able to say the same of Bristol's Barry Dolan, who is known under the moniker Oxygen Thief, whose relentless touring schedule proves him far from indolent, and the musical style of his debut EP for the prestigious Xtra Mile Recordings. 'Accidents Do Not Happen, They Are Caused' posits Dolan and his band as the ones far more likely to hand out a swift boot to the posterior than be on the receiving end of one.
Hitherto known for his solo work, Oxygen Thief has invited friends from labelmates The Retrospective Soundtrack Players to add some hard-rocking riffs to proceedings, making for a fuller, more vicious sound. Lord knows how hard he batters his poor acoustic guitars each night, as these tracks contain such bite and aggression I'm sure his strings must commit hara-kiri and snap out of sheer terror. With a style that's somewhere between Frank Turner (if he remembered he was in a post-hardcore band once upon a time), a grittier Biffy and Southampton rockers Drawings, these seven tracks are instant, engaging and emphatic. Perhaps the most impressive part of this release is that Dolan manages to convey his frustrations and malaise by singing rather than shouting, making moments when he does unleash a primal scream, such as on 'Disaster Plan' all the more effective.
One criticism that could be levelled at this record is its lack of variety, but it's hard to see that as a true negative when this clearly sounds like it was a blast to make – as both a catharsis of pent-up rage and a worthwhile experiment with a different approach. There are dimensions to this EP, such as the juggernaut-esque 'There Can Be Only One' meeting the more melodic 'Modesty Is Dead' right at the top of the record – it may not be as bi-polar as the two sides to recent tourmate Jamie Lenman's 'Muscle Memory', but it does show diversity on a release that could easily become monotonous if variation was not deployed.
An EP that may come as a surprise to fans of Xtra Mile's lighter output, this release puts Oxygen Thief on the map after 6 years of exhaustive touring, and this energetic and urgent sound is sure to earn the Bristolian and his cohorts a successful 2014. Not to be confused with his political rapper near-namesake Bernard "B." Dolan , this scinitilating slice of powerful rock, far from being a waste of anyone's time or O², is rathermore a breath of fresh air.
3.5/5
'Accidents Do Not Happen, They Are Caused' by Oxygen Thief is out now on Xtra Mile Recordings.
Oxygen Thief links: Website|Facebook|Twitter
Words by Ollie Connors (@olliexcore)