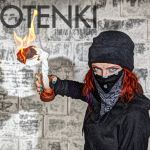 Love them or hate them, the likes of My Chemical Romance and 30 Seconds to Mars have done something that few thought was achievable, even during the emo renaissance of the early noughties.
They brought emotional hardcore, or some semblance of it, kicking and screaming into the pop mainstream. Now my 11 year old niece is listening to chord progressions influenced by Rites of Spring, which is sort of cool but hard to get your head around.
Otenki represent recognition of this transition. On the one hand they are unashamedly pop, highlighted in no less explicit manner than when they stick a Bruno Mars cover in halfway through their debut album, complete with saccharine, boyband chorus.
Nonetheless, since their inception in 2004 they have joined both the Warped and Taste of Chaos tours; supported the likes of Deftones, Thrice and Killswitch Engage; and generally enjoy making quite a lot of racket thanks very much.
Opening track 'Ghosts' comes in, all Coheed and Cambria, with choppy guitars and sailing vocals. It's all quite nicely crafted and if you drop that cool demeanour for a second you could probably admit you like it.
Alas, when it comes to the overall package, 'The War Outside's baffling structure sinks it like a cannonball. The album is actually a re-release of Otenki's 2011 EP 'Kinetic', with the additional tracks largely comprised of ill-advised dance remixes and an acoustic effort sung in Spanish.
The remixes frankly do nothing for their sound, coming across more like a fan-boy YouTube upload than a well-considered addition to the album. Track two is a drum n bass version of 'Glory Be', with the original confusingly placed as the penultimate piece on the record.
The ten tracks on offer are as scattergun as a hastily compiled high-school mixtape.  Whatever merit is held in songs borrowed from the EP is undermined by filler added on the full length.
Produced by Paul Wisner (Paramore, Underoath), the record sounds as slick and polished as it gets. All the more confusing then, that Otenki didn't use this platform to showcase new material. Rehashes and re-releases, from a band who thus far have lead an ancillary existence, isn't good enough.
'The War Outside' comes across more like a collector's piece than a new album; which would be fine if they were an established act. But clearly Otenki still have so much work to do, and this feels more like a false start than a launchpad.
2/5
'The War Outside' by Otenki is out now.
Otenki links: Facebook|Twitter
Words by Alex Phelan